The relationship lasted only four months
Through social networks, the singer and former BBB Gabi Martins announced made the separation with the gamer official Lincoln Lau. The two met in Farofa da Gkay, at the beginning of December 2022 and made their relationship official on the 19th of the same month, when they went together to Punta Cana, in the Dominican Republic.
The gamer announced the closure, also through social media. Without saying why, Lincoln has just published a text in which he said that the two were no longer together.
In the publication, the guy was disgusted with parting, but preferred not to go into details.
Shortly before the publication of the end, the gamer would have been annoyed by a publication in which the singer appears wearing a watch that would have been a gift from the singer Tierry, Gabi's ex-boyfriend.
Due to the repercussions, Gabi released a series of videos in which she claimed to have been in an abusive relationship. She also shared printouts that allegedly show the player forcing the singer to delete photos of her with her ex-boyfriend and threatening to take her life if she doesn't.
"It was a threat, a blackmail, that made me delete relationship photos and videos from two years ago. I won't say what he showed here to preserve it. It's just a small example of what he did to me all the time." Gabi began.
The former BBB also said she sought specialized psychological help for Lau, but that he didn't take her seriously. "Don't ignore the signs of an abusive and toxic relationship. Be suspicious when the man always asks you to prove your loyalty. After all, whoever lies, hides and betrays is himself. Don't keep silent and don't accept threats and blackmail. Psychological abuse is also aggression," he concluded.
In addition to the threats, Gabi posted another screenshot suggesting the gamer invited another woman to visit him. Lau rebutted the allegations: "Why don't you say that you attacked me three times during the discussions, calling me by every possible name? I never cursed her, I never touched her," she said.
"He showed me the messages they sent, and he said he didn't respond, but when I asked to go live, he had responded. You can't be calm listening only to my mistakes, when she was wrong too," she revealed.
Source: Terra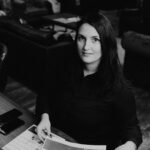 I am Amanda Gans, a motivated and ambitious professional in the news writing industry. With over five years of experience in this field, I have developed an eye for detail and an ability to craft stories that captivate readers. I currently write for Gossipify, where I specialize in beauty & celebrities news. My passion lies with exploring the world of beauty through writing, interviewing experts and developing articles that are both informative and entertaining.