Sasha Meneghel is ready to take the leap in her career as a stylist. The model revealed that she is already in the process of starting her own clothing brand after graduating from the prestigious Parsons Schools of Design, in New York, United States.
"I'm about to open my own brand. I graduated in fashion from Parsons in 2020. I've always loved this universe, ever since I was a child. It's something very present in my life, my mother [Xuxa Meneghel] He always encouraged me to explore my artistic side. Making this a reality has been an incredible process," Sasha said.
With an eye on designer clothing, Sasha will be present at Milan Fashion Week, in Italy, to pick up some references from the trends for next season in the European continent. "Grey is very popular," she said.
"I want to understand how this week looks different, to see what shapes are trending. We've seen a lot of shorts, short skirts… I'm curious. Even ballet flats, which I swore I wouldn't do. I don't wear it and now I I enjoy it," admitted the model.
Renovated in appearance
Sasha Meneghel also took advantage of the fashion event to adopt a new hair color. Now, the stylist has swapped her natural blonde locks for red tones with the help of hairstylist Anderson Couto and brand Truss.
However, the model gave one of the main reasons for the change: "My hair was very weak, I started taking care of it and moisturizing it more, and in the end it stayed in my natural color for a long time. As a result, I wanted to do a bigger change, something that I think is super fun. And it all happened with perfect timing. We made the change right before a really special trip."
"Image care is completely part of my daily life, it includes the tone of my hair, the makeup I choose to wear and my clothes, which have also shaped my upbringing. The desire to become a redhead was already with me" , he added.
Source: Terra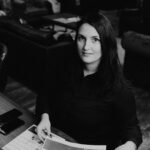 I am Amanda Gans, a motivated and ambitious professional in the news writing industry. With over five years of experience in this field, I have developed an eye for detail and an ability to craft stories that captivate readers. I currently write for Gossipify, where I specialize in beauty & celebrities news. My passion lies with exploring the world of beauty through writing, interviewing experts and developing articles that are both informative and entertaining.