Juvi talks about any topic as if it were a great contemporary discussion, even if it is only about ways to evacuate.
Music producer Júlio Victor, 31, produces very varied content. From great musical productions to evaluations on the best ways to let off steam in the bathroom, passing through the social and psychological analyzes of great works of art … The influencer navigates between the cult and the absurd, as you say, with lightness and naturalness .
The content format he recently decided to bet on has become his trademark in recent months. Almost cynically, juvias it is known in social networks, it is organized in rankings the most diverse types of objects, events, quirks and everything else that comes to mind. The description, always in fancy words, draws attention to the unexpected – and that's what's fun.
An example of this is when he listed the best ones "anesthetic oath". To use the creator's words: "what you scream to relieve the pain when you tap your little finger on the corner".
"It has a Freudian perspective, a regression, a dematerialization, a return to intrauterine comfort that really relieves pain," he says when listing one of the best in the TOP 5 who, for obvious reasons, will not be mentioned here.
"I like the idea of ​​talking about atrocities in a cultured way. I like these contrasts," he reveals in an interview with Terra. "I use an imaginative vocabulary that often doesn't even exist, some neologisms to fucking fashion. I think that's part of the fun."
At the same time, Juvi reflects on the fact that not all of its content is a joke in itself.
"I'm not a comedian and I don't even have that claim. It's the way I talk, it's my opinions, in fact, about things. When I say loud burp is the best burp, it's precisely because that's what I like to give ", he assures.
Spontaneity is a non-negotiable criterion for videos, which have already earned them 122,000 followers on Twitter, 266,000 on Instagram and 1.4 million on TikTok. On a daily basis, these people follow Juvi's daydreams and improvised reflections, which has already received around 50 million likes on TikTok.
All this success, on the other hand, came with the viralization of only one content format. The recent backlash came after eight years of working on the Internet.
"[O ranking] it's kind of a result of everything [trabalhos anteriores]. There is a little bit of social analysis, a little bit of humor, a little bit of random things, everyday life and modernity, "she describes.
The start on the Internet
Juvi is from Volta Redonda, inland from Rio, but has lived in São Paulo for about a year. Before identifying herself as a digital influencer and internet content producer, she was a music producer. Her most recent work was on the soundtrack of the Cellbit RPG, "Paranormal Order".
It was also the music production that made her create her YouTube channel in 2014.
"I've talked a lot about music, essentially. But as time has passed, I've opened my mind to other questions. […] I stopped talking only about music / sound and started talking about meanings, contexts, more internal, social and psychological issues that exist in the songs, "he explains.
Like thousands of Brazilians, it was in the context of the isolation of the Covid-19 pandemic that he discovered the TikTok app. Initially, only by consuming. "I would record a joke video from time to time, but I kept producing my more complex videos for YouTube," he recalls.
The videos on the new platform were always fun, unlike their content in the longer videos. Its content, therefore, began to take shape gradually, with Juvi experimenting with whatever she wanted to do at the time.
Simple lists of anything like floor types and stair types evolved into the popular Top 5. The final idea of ​​the format was a conversation with friends over a barbecue.
"We were talking about the way boyfriends and girlfriends call each other. We were listing the worst ones. The other day I did and this video has already worked very well," he recalls.
Today there is a Juvi video that reaches 35 million views on TikTok. The success has opened the doors to companies that, interested in the reach and the acidic sincerity of the producer, hire her for a differentiated advertising.
@eujuliovictor TOP 5 things @Mercado Livre made me buy! With Mercado Livre FULL you have the fastest delivery in Brazil to guarantee pirates equal or better than mine like rubber ducks, crazy t-shirts, masks, puppets and more! Buy on the APP and guarantee your goodies. Join the trend and show us what Mercado Livre makes you buy too! FASTER SHIPPING IN BRAZIL * Independent comparative analysis, based on the calculation of the average delivery times offered in the period 08/26/2021 and 09/02/2021. #published #MeLiMeFezBuy #TiktokMeFezBuy #TikTokmademebuy ♬ original sound – eujuliovictor
not binary
You may have noticed that we introduced Juvi with a name that commonly identifies people as male, but we treat her like a female, even now. And no, it's not neglect. Juvi recognizes herself as a non-binary person and she accepts all pronouns, but she prefers to be indicated in the feminine.
This self-discovery was made gradually, over a long journey during the Covid-19 pandemic.
"A lot of things told me, as a child, that I wasn't zero or one, black or white," he explains. "So when I realized myself, I started allowing myself to do things I hadn't done before. Things from the outside that made me understand better from the inside," she reveals, citing painting her nails and wearing "feminine" dresses.
This change was also happening in front of the cameras. "Those who follow me little by little understand me", says Juvi.
Even sharing this process, she feels free to answer the many questions of her followers, but avoids this topic becoming the focus of her production.
"While I think it's really great who does it, because it's essential and we need information, I don't want to become a non-binary person talking about non-binaries," he says. "I like the fact that the person follows me because of the content, and when he sees it, he loves the profile of a non-binary person. I want it to be so natural."
* With editing by Estela Marques.
Source: Terra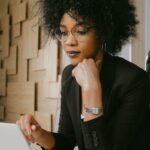 Camila Luna is a writer at Gossipify, where she covers the latest movies and television series. With a passion for all things entertainment, Camila brings her unique perspective to her writing and offers readers an inside look at the industry. Camila is a graduate from the University of California, Los Angeles (UCLA) with a degree in English and is also a avid movie watcher.