Streamer Casimiro Miguel broke the record for views of a live Brazilian on YouTube with the broadcast of the match this Monday (11/28) between the teams of Brazil and Switzerland for the 2022 World Cup.
In addition, the official match broadcast also became the second largest YouTube live stream in the world, surpassing Space X's Elon Musk rocket launch.
During the second half of the game, Cazé peaked at 4.8 million people who watched the simulcast on YouTube, along with another 331,000 people on Twitch. According to PlayBoard, the record until then was Elon Musk's launch of a SpaceX rocket, which garnered 4.08 million viewers in May 2020.
The detail is that all of CazéTV's audience is limited to Brazil, as the negotiation of the broadcasting rights of the World Cup limits the scope of the broadcast.
The record expectation was announced during the match exhibition.
"We are on the verge of breaking the world record. The information coming in is that we have broken Elon Musk's record. The record is the launch of Space X. Hello, Elon Musk, thank you my friend, goodbye my friend," he joked Luís Felipe Freitas, who shares the broadcast with Casimiro.
In fact, Casimiro would need to nearly double his audience to break the world record. The 1st place in this ranking belongs to the parachute jump from space performed by Felix Baumgartner, which was watched live by more than 8 million people.
Either way, many of Casimiro's followers taunted Musk on Twitter, for losing the position to the Brazilian.
It is worth mentioning that, in addition to the video broadcast, CazéTV's coverage of catching Eduardo Bolsonaro in the stands in Qatar went viral on social media, while Bolsonarists held anti-democratic rallies in the rain to keep his father president, despite his defeat at the elections.
And to break the nets once and for all, he also posted a special meeting that took place after the match in Qatar. Casimiro finds Casemiro, author of the goal of the match between Brazil and Switzerland. Look down.
ELON MOSS SUCKER https://t.co/TFHNkQy2I6

— Ferreirinjas 🇧🇷🏆🇧🇷 Towards Hexa (@sF3RL) November 28, 2022
🇧🇷The best content in your email for free. Choose your favorite Terra newsletter. Click here!
Source: Terra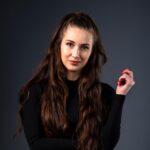 Amanda Larkin is a celebrity journalist at Gossipify, known for her in-depth interviews and unique perspectives on the entertainment industry. She covers celebrity news and gossip, providing readers with engaging and informative content, and understanding of the inner workings of the industry. She's respected for keeping readers up to date with the latest trends and providing a fresh perspective on the celebrity world.