Singer Ozzy Osbourne will stop touring. The announcement was made with a post by the singer on his social media, in which he said he was "physically unable" to perform at the previously scheduled shows that would take place in Europe and the UK.
This isn't the first time Ozzy has canceled a tour due to his health. In 2020 he did not play a part of the shows scheduled in the USA, due to his weakness.
He had been diagnosed with Parkinson's disease at the time, but said the degenerative condition was the least of his worries. Worse was the "incredible pain" resulting from an injury that occurred in 2019.
This time, however, his decision seems final.
In his post, Osbourne explained that "this is probably one of the hardest things I've ever had to share with my loyal fans. As you all know, four years ago, ending this month, I had a major accident, where I hurt my spine." .
"My only goal during that time was to get back on stage. My voice is fine. However, after three operations, stem cell treatments, endless sessions of physical therapy and most recently the innovative Cybernics (HAL) treatment, the my body is still is physically weak," he continued.
"I am genuinely humbled by the way you all have kept your tickets waiting patiently all this time, but in good conscience I have now realized that I am physically unable to hold my next European/UK tour dates because I know that I wouldn't be able to make the necessary travel."
He further stated that "the thought of letting my fans down really drives me crazy, more than you will ever know."
"I never imagined my touring days would end like this," he said.
Despite speculating the end of the tours, Ozzy has left some hope for UK fans, saying it doesn't necessarily mean a forced retirement. "My team are thinking about where I can perform without having to travel from city to city and country to country," he explained, hinting at the possibility of doing limited shows in London.
In August of last year he moved back to England, saying he didn't want to die in the United States.
Osbourne concludes the post by thanking family, friends and fans and assuring that all ticket money will be refunded.
Source: Terra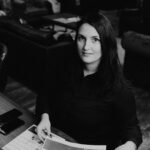 I am Amanda Gans, a motivated and ambitious professional in the news writing industry. With over five years of experience in this field, I have developed an eye for detail and an ability to craft stories that captivate readers. I currently write for Gossipify, where I specialize in beauty & celebrities news. My passion lies with exploring the world of beauty through writing, interviewing experts and developing articles that are both informative and entertaining.