The wake of Gloria Maria takes place in a cemetery in Rio de Janeiro this Friday (3) and one of the first to arrive to greet the journalist was Marina Ruy Barbosa. Photos
GloriaMaria is veiled at the cemetery and crematorium of Penitência, in Caju, port area of ​​Rio de Janeiro, this Friday morning (3). television icon, consecrated for his dealings around the Earththe journalist The 73-year-old died of complications from lung cancerdiagnosed in 2019. Gloria leaves behind two daughters, Maria and Laura, whom she adopted in 2009 and who will now be entrusted to the care of guardians.
Close friend of the reporter, Marina Ruy Barbosa arrived about 10 at the cemetery visibly disconsolate and dark glasses. The actress left the car and went straight to the chapel. It is worth mentioning that Gloria was godmother at the wedding of Marina and Alexandre Negrão, a couple who separated in 2021.
The couple Luciano Huck AND Angelica sent a wreath to the journalist, who this afternoon will be honored by Globo with the replication of some reports instead of the "Sessão da Tarde", and whose death caused deep sadness in several personalities.
The death of Gloria Maria made Marina Ruy Barbosa cry: "I love you"
A few hours after confirming Gloria's death, Marina took to her social media to say goodbye to her friend and bridesmaid. "Gloria, my soul friend, how much this hurts. You are one of the most special people to ever walk through this world. I love you so, so much. What a privilege to have your friendship in this life, your light, your your joy, our hearts, moments, our conversations…
"All your experience, wisdom and kindness…
Source: Terra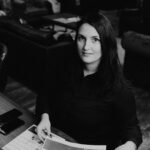 I am Amanda Gans, a motivated and ambitious professional in the news writing industry. With over five years of experience in this field, I have developed an eye for detail and an ability to craft stories that captivate readers. I currently write for Gossipify, where I specialize in beauty & celebrities news. My passion lies with exploring the world of beauty through writing, interviewing experts and developing articles that are both informative and entertaining.