Actor Miguel Santana Arellano could be involved in the disappearance of Ana Victoria Ruiz Palacios, a case made public thanks to Dana Paola voiced the little daughter of the woman at one of his concerts.
Mickey Santana, stage name of the former child star and who was in a relationship with "Vico", is one of the possible suspects because she went to visit him in Mexico City to allegedly give him the engagement ring. After her departure from Guadalajara in April 2022, her family never saw her again.
How is Mickey Santana doing?
Mr. Enrique González Casanova, legal advisor of the family of Ana Victoria Ruiz Palacios, explained the actor's situation.
"He is accused in one of the investigation files, but there are three investigations, one in the Prosecutor's Office of Jalisco, another in the Prosecutor's Office of the State of Mexico and another in the Prosecutor's Office of Mexico City," he said without elaborating on the process in an interview. with journalist Addis Tuñón for the show "De primera mano".
González Casanova made it clear that, for now, there is no arrest warrant vs. Mickey Santana.
"He has the character of an accused, the truth is that he has not been issued a summons, an appearance, much less an arrest warrant. […] There would be no reason to interfere."
What if Mickey Santana went to the authorities?
Since he is only a presumed suspect, he could only be interviewed to gather data.
"Right now he would not have the strength to appear before any of the three ministerial authorities […] No act of nuisance has been caused," he said.
"What you could do is approach the victim's parents or, in this case, legal counsel and what could be discussed is that, at our request, they make him appear. […] What do you know? collect and tell us what he really knows and knowsand that he essentially clarified through the evidence of the tests he could provide, that it is not related to the facts in the subject of the investigation", explained the lawyer on the show.
Investigations have gathered evidence that could implicate the actor in the disappearance, such as the geolocation of Ana Victoria's cell phone, as it was shown to be at Mickey Santana's home address.
"There are geolocations, there are interventions, there is a lot of test data that the various authorities have already gathered, then in that sense, at least so far, there is a very significant presumption that may have had some kind of involvement with the fact that it appears to be a crime that, if this theory is confirmed, would be considered crimes informal preventive detention, he would have to face the process in prison if this situation were confirmed," said Enrique Gonzalez Casanova.
Source: univision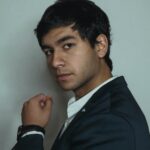 Jason Root is a writer at Gossipify, known for his in-depth coverage of famous people in entertainment, sports, and politics. He has a passion for uncovering the stories behind the headlines and bringing readers an inside look at the lives of the famous. He has been writing for Gossipify for several years and has a degree in Journalism from UC Berkeley.