On the eve of the whole world was shocked by the news that one of the twins of Georgina Rodriguez and Cristiano Ronaldo died during childbirth. The girl survived. As the football player said in their joint statement, it is the baby that now gives them the strength to live on.
Both colleagues and friends, as well as relatives, are trying to support the couple. Ronaldo's older sister Katia Aveiro was the first to break the silence. She posted on her account a picture with Cristiano, his fiancee and her nephews. In the caption to the photo, Katya turned to her famous brother:
I love you and my heart will go through this loss with you. May God take care of everything and strengthen your path … Our little angel is now on dad's lap, and the baby that was born is so strong, strong and full of health. She will prove every day how important love is," she wrote, referring to their father José Aveiro, who passed away in 2005.
Ronaldo's father died in 2005 of liver failure. The son and father had a difficult relationship, but Cristiano said more than once that he misses him very much.
Katya Aveiro is the sister of Cristiano Ronaldo. She is eight years older than him. Katya is a singer, she began her career 15 years ago, she performed both under the pseudonym "Ronalda" and under her own name. In total, she recorded six albums, and her famous brother helped her with the first. The second disc was the most successful: Aveiro even went on a tour of Portugal with it. The song Obrigada Mano is her biggest hit dedicated to her brother.
Source: Hellomagazine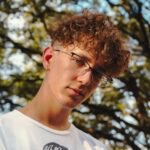 Benjamin Smith is a fashion journalist and author at Gossipify, known for his coverage of the latest fashion trends and industry insights. He writes about clothing, shoes, accessories, and runway shows, providing in-depth analysis and unique perspectives. He's respected for his ability to spot emerging designers and trends, and for providing practical fashion advice to readers.