lasagna paste spoke for the first time about problems he had with Cristian de la Fuente during the tapings of the soap opera 'I want to love you', in which they starred in 2013. Through tears, she shared that she is still working to heal everything she went through.
Karyme Lozano asserts that she was bullied
The Mexican actress and Cristian de la Fuente first collaborated in 2005 when they starred in the melodrama "Soñar no costa nada", a Venevisión production recorded in Miami. In that project everything was going smoothly. However, everything changed eight years later when they returned to share the credits in "I want to love you", a telenovela produced by Carlos Moreno for Televisa.
" I had never experienced bullying in my life, everI didn't understand what that was and I had a really bad time, to the extent that she came home crying every day […] I started to become introverted, I wanted this novel to end," she said in an interview with journalist Mara Patricia Castañeda for her YouTube channel.
It took the actress five months to stop the actor, which caused more tension between them: "In that other novel ('The dream costs nothing') I was dazzled, happy and the ego was so (big) on ​​the other side (Cristian de la Fuente); in this novel ("I want to love you") I said: "I love you very much, you are married i am marriedAnd all good, but suddenly attack after attack after attack, to the point where I spoke at a high level, but I didn't speak as clearly as I should have, I wasn't very specific, I've never experienced anything like that in my life, ever," he recounted.
Karime Lozano confirms that she was given a double
In 2013, when the telenovela was on air in Mexico, it was speculated that she had been given a double for the bed and kiss scenes. This information was confirmed by writer Martha Carillo in 2020, who said she had to adapt the script because of how complicated it was. Now, Karyme Lozano has revealed the reason why she didn't record these kinds of scenes with Cristian, which she says cost her a smear campaign against her.
"What is happening is this they gave me a double for other reasons that the world does not know, (to avoid impiety). There are people who have this dualitywho can be charming and look divine with someone, and suddenly have the other (side) of darkness.'
"This person turned a lot of people against me, even the media saying that Karima doesn't kiss, Karima is unprofessional, Karima is late, one after the other, and it was all lies," she said emotionally in the interview. "He tried to turn actors against me, he never succeeded, but he burned me, people who didn't know me might have doubts, all I'm saying is God bless him," he added.
Karime Lozano received treatment
The Mexican actress had to put herself in the hands of specialists to cure the difficult times she lived for months, which she continues to treat to this day.
" I continue to work on my healing for I am not ready to speak of many things yet and may never speak of it in public, but I experienced very bad things that moment".
Karime recalled that "even the same press colleagues or themselves, like 'oh, what a fool, how can she not want to be kissed?' how can he not want to make scenes in bed if he's a good shoe?"".
Responding to these comments, the actress stated: "No one has the right to disrespect you, or bully you, or defame you, no one, even if they are the most famous, the most beautiful, but that's what it happens in mexico sometimes unfortunately […] Sometimes when our life is based on ego, on pride, you can destroy whoever stands in front of you," he added.
Karime's husband did not know the details of what she experienced
In 2012, Karyme Lozano married Michael Domingo, with whom she has raised a family. The actress shared that her husband always knew what happened to the Chilean actor, but only recently learned all the details. Even her daughter Ángela Iturrioz also knows her mother's story.
"Michael obviously I wanted to hit him thenIt's good that he knows everything about my life, so I'm not afraid that something will come out, but he didn't know all the details until recently," he told Mara Patricia Castañeda.
The lesson learned by Karyme Lozano
Thanks to the treatments, Karymi realized that she should not be silent about what she was experiencing and asks those who are going through something similar to talk to their superiors at work.
"It's not worth staying silent when you're having a bad time […] At that moment I didn't know what to do, whether to go to HR or who to go to, I think it's important to talk about things as they are, yes, I should have been more clear about who I went to talk to." .
"Later I talked to Carlos (Moreno the producer) and he hugged me and said 'I'm sorry'. He saw a lot of things and tried to say, but then they didn't pay attentionhe supported me a lot but he didn't even know everything," said the actress.
Karyme found that some of his colleagues prefer to avoid working with Cristian de la Fuente.
"I know a lot of people have already taken that step, when they say they're going to be there 'Oh no! I'm not going to the project,' meaning things themselves fall under their own weight and everything comes to light sooner or later. I don't give many details because I don't feel prepared and we would affect third parties", he condemned.
Source: univision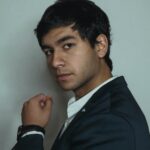 Jason Root is a writer at Gossipify, known for his in-depth coverage of famous people in entertainment, sports, and politics. He has a passion for uncovering the stories behind the headlines and bringing readers an inside look at the lives of the famous. He has been writing for Gossipify for several years and has a degree in Journalism from UC Berkeley.