The sportscaster quietly suffered emotional pain and a trauma of violence at the time of the channel's shutdown
Recognizing weaknesses and mistakes is among a man's greatest strengths. In the interview with the podcast 'Tomando uma com…', the sports journalist Bruno Laurence showed this virtue by commenting on the resignation of Esporte da Globo, in November 2016, after 13 years on the channel.
"After a while I reflected and realized that I wasn't exactly in a good phase of my life and Globo had nothing to do with it. Globe doesn't have to take care of me. I have to take care of myself and surrender. But I wish I'd asked for help. Saying 'hey, guys, I'm not cool'," he said.
At the time, the reporter was facing a whirlwind of negativity in his personal life.
"My father had died, I had just gone through the separation of my first marriage. I had a heavy robbery in which I was recognized as someone from Globo and, therefore, they discussed whether or not they were going to kill me as they beat me, and I was on my way to work at the time of the robbery, it was December 31st."
As mental health experts explain, it's common for men to avoid admitting to an emotional issue and seek support. Most suffer in silence for fear of public scrutiny. "I thought 'ah, it's a difficult phase, but it will pass, it will pass'. And I certainly wasn't earning what I had already earned," Laurence said.
The journalist told how he was fired by his boss in the editorial office. "The guy who told me I wasn't good but it's a mistake. He told me I don't agree. Now, a lot of things were happening in my life at the time that weren't cool," he said.
"On Thursday I was finishing the 'Jornal Nacional', the latest report, and on Monday the guy said I was no good and fired me."
The justification for firing him triggered a harmful mental trigger. "You ask yourself, 'I think I'm really bad', 'Am I not really bad?', 'Have I been cheating for that long?', 'I've been hiding from people that I'm bad and only now found out?'"
Laurence admits the difficulty coping with the troubled moment that led to the dismissal. "Maybe today I would have asked for help. I would have said, 'Man, my life is a mess, old man. I am not well'. I would ask for help and I didn't know how to ask for that help. And I believe that no one should notice and offer you help. You have to ask for help."
In the conversation about 'Tomando uma com…', the journalist mentioned the case of his friend Marco Aurélio Souza. The veteran reporter left Globo in December 2022 after nearly 20 years of sports coverage. He was diagnosed with burnout syndrome, characterized by extreme professional burnout. "He froze, called for help, and then walked away."
Bruno said he worked 12-hour days after football day. "I had one Sunday off a month." According to him, it was common to leave the station at 6 in the morning after following a game the night before and to have to return to the newsroom in the early afternoon.
Globo's abrupt dismissal generated practical problems in the journalist's life. "My life was in there. My subscription account email was mine on TV, I didn't even have another email. And the email was immediately disabled. I could no longer access (accounts)."
Bruno claims to have won. "I'm not mad at the person (who fired him), but it wasn't nice. And it's from the game. " He is grateful to the broadcaster.
"Globo was the shit. I won prizes, bonuses, things I wasn't even entitled to. The company has nothing to do with it. Managing that person as a leader at that time… Perhaps if you tell an expert, they might say that this is not the most appropriate approach. The guy wasn't looking at my face (when I fired him)."
Son of the great sports journalist Michel Laurence (1938-2014), the journalist who covered the World Cup and the Olympics was asked in the podcast if he thought about changing news editor. "I love, I see everything that is sport. I don't have the ability to do anything else. I admire the guy who turns a hole in the road into a relationship.
Out of TV since his brief stint on Fox Sports, he refuses to invest in controversy on YouTube, where several journalists make a lot of money criticizing athletes and teams.
"I want to get to a place and the person cracks a smile when they see you. I worry about it. In the same proportion, how bad it must be for you to arrive and the person lowers his head, turns his head, looks at his watch, takes his cell phone… It must be bad as hell. I, today, am concerned with really learning how to be a better person.
Source: Terra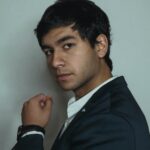 Jason Root is a writer at Gossipify, known for his in-depth coverage of famous people in entertainment, sports, and politics. He has a passion for uncovering the stories behind the headlines and bringing readers an inside look at the lives of the famous. He has been writing for Gossipify for several years and has a degree in Journalism from UC Berkeley.