In 2007, Mel Gibson released Apocalypto, his fourth achievement. The shocking film, which immerses viewers in the turbulent times before the fall of the legendary Mayan civilization, follows the story of a young village chief whose idyllic existence is suddenly disrupted by a violent invasion.
Mel Gibson is not acting in his Apocalypto, content to stay behind the camera. But at least the American appears on screen once. Don't you understand? It's normal! We'll explain: Mel Gibson is not seen in the movie itself, but in the movie trailer, where he makes a hilarious cameo!
You'll have to keep your eyes peeled to see this hilarious look in the trailer below. At real speed it's really hard to make out Mel Gibson, but if you stop at exactly 1 minute and 46 seconds, you'll be surprised to find the Hollywood star on the screen!
Playful, shirtless, with his co-stars dressed as they are, Mel Gibson had a rare treat in the cinematic landscape. Because while it's fairly common for a director to offer himself a cameo in a movie, doing so in just a trailer is pretty unprecedented. And when, on top of that, this fleeting appearance, as here, is very funny, because completely out of step with the tone of the work, it's even better!
Mel Gibson recently starred in the feature film "Agent Game":
Source: Allocine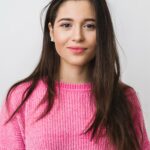 Rose James is a Gossipify movie and series reviewer known for her in-depth analysis and unique perspective on the latest releases. With a background in film studies, she provides engaging and informative reviews, and keeps readers up to date with industry trends and emerging talents.