Mexican authorities found 175 migrants, mostly from Guatemala, crammed into a truck in the southern state of Chiapas, the National Migration Institute (INM) said on Friday, in the latest episode of mass human trafficking detected in the country.
Immigration officers heard screams and banging from inside the vehicle as it was stopped at a checkpoint in Chiapas, the INM said in a statement.
Although the driver refused to open the tailgate of the truck, the migrants' faces could be seen through the openings in the compartment, the INM said.
The images released by the institute showed people close to each other inside the truck before getting off one by one with the help of INM agents.
Most of the migrants were from Guatemala, with others from Ecuador, El Salvador and Honduras. One person was from the Dominican Republic and the other from Pakistan.
The group included 28 unaccompanied minors from Guatemala and two from El Salvador.
Migrants fleeing poverty and violence in Latin America often pay off smugglers in an effort to smuggle through Mexico to the United States. One group detected this year included more than 300 people in a truck in the eastern state of Veracruz.
Source: Terra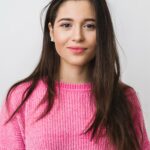 Rose James is a Gossipify movie and series reviewer known for her in-depth analysis and unique perspective on the latest releases. With a background in film studies, she provides engaging and informative reviews, and keeps readers up to date with industry trends and emerging talents.