Tati Zaqui has posted a lengthy rant about everything that's been going on in the last few weeks. The singer has opened a complaint against Thomaz Costa for domestic and psychological violence.
Days after announcing he split from Thomaz Costa, Tati Zaqui opened a police report against the former In the complaint, the singer she claimed to have been a victim of domestic and psychological violencepersonal injury, threats and damage to property and, therefore, won a protective measure against the plaintiff in court. One week after BO, funkeira has published an open letter on the subject on social networks.
In a long text, Tati Zaqui does a analysis of everything they experienced during the months of dating and post term. The singer and Thomaz started dating in October last year, after their participation in "A Fazenda".
"They wounded my body, they slaughtered my heart and I completely lost my peace. They completely deconstructed me in a slow process that seemed to have no end. I no longer enjoyed being on stage or in the recording studio. I turned down jobs and appointments. I no longer had the will to live and I just wanted everything to end soon, as if by magic," wrote the singer at one point in the text.
Elsewhere in the text, Tati claims to have the help of family and friends to get out of what she calls "the bottom". "Psychological abuse is a net. The more you try to get out, the more you become trapped in it. Emotional abuse completely invalidates you, nullifies you to the point where you become nothing. Physical assault scars your body, but tears you apart your heart Have understanding with my moment of recollection.
Source: Terra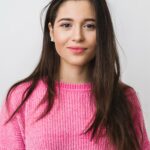 Rose James is a Gossipify movie and series reviewer known for her in-depth analysis and unique perspective on the latest releases. With a background in film studies, she provides engaging and informative reviews, and keeps readers up to date with industry trends and emerging talents.