In search of a new beginning, Eva and Yanis, the happy parents of a one-month-old girl, pack their suitcases into a suburban house located on a street where everything seems to be quieter. But one night their lives change. After a tragic accident, their child suddenly dies.
Broken, they try to rebuild themselves and find support from their neighbors across the street, Livia and Stephen. The special bond between the two couples does not last long: they share sorrows, joys… and soon much more. to infinity so no one gets out unscathed.
The house is oppositeDirected by Lionel Bailliu and written by Déborah Hadjedj and Lionel Bailliu based on the Dutch series Nieuwe Buren.
With Julie de Bona, Marc Ruchmann, Caterina Murino, Thierry Nevik, Antoine Dulery, Jean-Stan du Pak…
Every Tuesday at 9.10pm on M6 and now fully available on Salto
According to Télé Loisirs:
"The performances of the four main actors deserve this gentle and delicate intrigue. The sunny Julie de Bona is amazingly able to convey all the fragility and determination of her character at the same time." 4/5
According to Télé 7 Jours:
"Between manipulations, betrayals and secrets, this thriller throws us into a rather unhealthy spiral. Despite its length, the main asset remains the actress. Caterina Murino in the lead role, but also Julie De Bona, in a surprise role." 3.5/5
According to TV Cable Sat:
"The construction handles the revelations deftly. The interpretation is as natural as it is engaging. Despite its woefully flat production, this thriller is undeniably effective." 3.5/5
According to TV Star:
"A dark and disturbing psychological thriller with finely distilled suspense." 3.5/5
According to Le Parisien:
"We wish that the pain of young parents had more room to express itself, so that the intrigue between the couples next door is a little less obvious. The actors remain believable and the crime scene is always effective." 3/5
According to Le Figaro:
"Episode 1 shows a Roman Polanski plot driven by seductive characters. His writers. And actually, a plot for his characters. Added sidekicks who aren't all that useful, a couple of cops who aren't all that interesting. Shallow sorority, notorious lack of stakes, characters with no depth without and deviations so strong that they burden the whole." 2/5
Source: allocine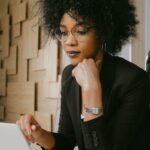 Camila Luna is a writer at Gossipify, where she covers the latest movies and television series. With a passion for all things entertainment, Camila brings her unique perspective to her writing and offers readers an inside look at the industry. Camila is a graduate from the University of California, Los Angeles (UCLA) with a degree in English and is also a avid movie watcher.