It will be an intriguing crossover! TikTok users are convinced they spotted serial killer Jeffrey Dahmer in the background of a Stranger Things clip.
Since the release of Dahmer: Monster – The Story of Jeffrey Dahmer starring Evan Peters, the serial killer is truly everywhere (only in a virtual way, thankfully). So this strange observation was not lost on viewers of both Netflix series.
The clip is from Season 4 of Stranger Things and shows Max (Sadie Sink) getting off the school bus. Then in the background walks a guy who looks suspiciously like Jeffrey Dahmer. See for yourself:
We must admit that this young man is very similar to him, but this crossing is impossible. Jeffrey Dahmer actually graduated high school in May 1978, but Stranger Things Season 4 is set in 1986: so the dates don't match.
That didn't stop TikTok users from posting clips about it, however, and the videos racked up over a million views, which, while false, quickly sent the internet into a panic. Doppelganger perhaps? More fashionable young people of that time!
Dahmer: Monster – The story of Jeffrey Dahmer and Stranger Things can be found on Netflix.
Source: allocine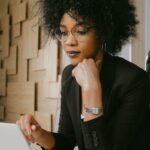 Camila Luna is a writer at Gossipify, where she covers the latest movies and television series. With a passion for all things entertainment, Camila brings her unique perspective to her writing and offers readers an inside look at the industry. Camila is a graduate from the University of California, Los Angeles (UCLA) with a degree in English and is also a avid movie watcher.