Year after year, Netflix surprises its audience with hundreds of productions to enjoy. Some of them are even part of the 2023 Oscar nominees.
However, the stream is increasing measures to terminate shared accounts within the platform. Even the company revealed how this process could be carried out.
Netflix has given a sneak peek at how it will block shared accounts
On February 1, 2023, Netflix (which has some of the 10 best series of 2022 in its catalog) included an "Frequently Asked Questions" section on its website to explain how shared streaming accounts will be banned.
First, the company explained that anyone you share your house with (who lives with you in your primary location) will be able to use your Netflix account.
To verify this information, it is indicated that users need to connect to this location's WiFi network. Then they have to stream something on Netflix, and they have to do it at least once every 31 days.
In this way, the platform will be able to verify that you are constantly or regularly connecting to the same IP address as the other devices using the same account.
Netflix also explained that if a device does not follow these guidelines, it may be prevented from viewing the platform's content.
However, this information is only preliminary, because in less than 24 hours Netflix deleted from its website everything related to "content played at least once every 31 days in the main home". This has caused various doubts among the users of the platform.
Netflix explained how to verify devices to share accounts
It is believed that the streaming platform continues to modify the indications related to the shared accounts.
It now only explains in the FAQ section that when a non-household device is constantly connected, you may be asked to verify it before it can be used to watch Netflix.
In addition, the platform released the guidelines for verifying a new device:
To verify a device: 1. Netflix sends a link to the email address or phone number associated with the primary account holder. 2. The link opens a page that provides a four-digit verification code. 3. The code must be entered on the requesting device within 15 minutes. If the code has expired, you will need to request a new verification code from the device. 4. After successfully entering the code, the device can be used to watch Netflix. 5. Device verification may be performed periodically.
Although right now you should only control the devices used when sharing a Netflix account, there's no guarantee that there won't be other changes in the future.
Source: univision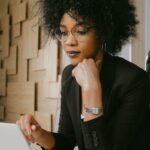 Camila Luna is a writer at Gossipify, where she covers the latest movies and television series. With a passion for all things entertainment, Camila brings her unique perspective to her writing and offers readers an inside look at the industry. Camila is a graduate from the University of California, Los Angeles (UCLA) with a degree in English and is also a avid movie watcher.