'Moss & Freud' will be a story about the artist Lucian Freud and the top model.
Ellie Bamber, the rising British star who has recently been seen in the series 'Willow'will be in charge of play supermodel Kate Moss in upcoming biopic 'Moss & Freud'.
The film comes from writer-director James Lucas, who won the live-action short film Oscar for 'The Phone Call' (starring Sally Hawkins and Jim Broadbent), and in whose plot rwill take the period of 2002 when Moss, at the height of her fame (and later while pregnant), decided to pose nude for the famous British artist Lucian Freud. It was a decision that profoundly impacted and transformed both their lives (and the painting was later sold in 2005 for nearly $5 million).
The Oscar nominee Derek Jacobi ('Murder on the Orient Express', 'The King's Speech', 'The Crown') will play the renowned artist. Moss will executive produce with support from the Lucian Freud Archive.
'Moss & Freud' is a GFC Films production, produced by Matthew Metcalfe (McLaren, Dean Spanley, 6 Days). Set in Freud's Holland Park studio and London in the early 2000s in the UK, the story opens to explore Freud's mysterious past and Moss's life as a world-renowned supermodel. Cornerstone is handling worldwide sales at the upcoming European Film Market.
A very special bond was built between the artist and the model when Moss posed for Lucian Freud in 2002.. At that time, she was one of the great top models of the 90s who was already recognized as a cultural icon at that time. He, an artist already in his eighties, not exactly a friend of celebrities, and with a consolidated career in which his works were valued at millions of pounds. Despite the differences that may have existed between the two at first, they discovered that they had a lot in common as their relationship evolved. The painter portrayed Kate in a period in which she became pregnant. The portrait sold at auction in 2005 for £4 million.
"Because this is such a personal story of mine, it has been essential that I engage with James in all aspects as the project unfolds," said Moss. soon, I can't wait to see it."
Bamber, 26, has been seen in 'Nocturnal Animals' or 'Pride, Prejudice and Zombies'. She most recently has appeared in the series 'The serpent' before 'Willow'.
Source: Fotogramas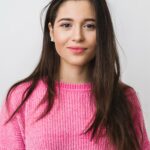 Rose James is a Gossipify movie and series reviewer known for her in-depth analysis and unique perspective on the latest releases. With a background in film studies, she provides engaging and informative reviews, and keeps readers up to date with industry trends and emerging talents.