The Australian singer's latest single has come under the radar of online conspiracists, who claim to recognize Illuminati symbology in promotional material.
A conspiracy theory involved Kylie Minogue, Satanism and the Illuminati in the last week. The news is from daily mailwhich found that the 55-year-old Australian singer would be the new target of conspiracyists, who link her new success, the hit "Padam Padam" to occult symbols.
Part of the theory would be linked to the cover of Kylie's 16th album, the recently announced Voltage, of which "Padam Padam" is a part. In the image, the singer appears holding a diamond in front of her right eye, which, according to conspiracists, would be an Illuminati reference. The clip, in which she appears dancing in a red outfit (see below) was also questioned.
A user says:
I loved #KylieMinogue
I found excuses for her
But their latest album is Illuminati symbolism in the face, from the covered eye to the dancing in demonic red in the ruins of western civilization in the Padam Padam video
Looking back, it was there from the start, on "I Should Be So Lucky"
Another tweeted:
@kylieminogue My goodness! So the Illuminati have a new puppet, and she's a pop princess! Watch out, lovers! Be kind, enjoy her music, but don't get carried away. Your choice is free.
Yet another, more explicit, declared: "Truly SATANIC, Kylie."
With "Padam Padam", Kylie Minogue is experiencing what has to be her biggest hit in at least a decade. The track reached number one on the billboard into the dance/electronic genre last week (June 3rd), reaching their first real top 10 in the UK since 2014.
Voltage, Kylie Minogue's next album, will feature 11 tracks and is described as "a mix of personal reflection, club abandonment and melancholic euphoria". He is the successor of Discocelebrated album released during the pandemic, and should officially come out in September 2023.
Source: Rollingstone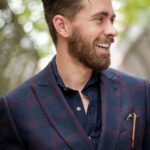 Earl Johnson is a music writer at Gossipify, known for his in-depth analysis and unique perspective on the industry. A graduate of USC with a degree in Music, he brings years of experience and passion to his writing. He covers the latest releases and trends, always on the lookout for the next big thing in music.