From Rita Lee to Thom Yorke, check out a list of 20 romantic songs that pay homage to the artists' loved ones
We discovered that Chico Moedas I did not want Luisa Sonza, but, like the singer, several other artists dedicated love songs to their partners. Some romances lasted for more than two months, others ended, while some of the couples remained together until death separated the lovebirds.
Check out 20 artists who have already dedicated at least one song to their loved ones:
Beyoncé – Crazy In Love ft. JAY Z
"Crazy in Love", composed by Beyonce It is Jay-Z, was released in 2003 — when the couple was still taking the first steps in their relationship. The feelings of starting a relationship seem well introduced in the song's lyrics.
Justin Bieber – Hailey
"Hailey" is just one of the tracks that Bieber dedicates to his wife, alongside "Anyone" and "Lifetime", for example. In the song in question, the singer made his intention to pay tribute clear in the title.
Nando Reis – All Star
By now everyone probably knows that the All Star's shade of blue Cassia Eller it was clear. Nando Reis and the singer were partners in music and maintained one of the best-known friendships between artists. Their relationship was not romantic, but the love between them justifies the inclusion of "All Star" on the list.
Rita Lee and Roberto de Carvalho – Mania de Você
With "Mania de Você" the partnership was born between the couple who remained together until the death of Rita Lee, in May this year. "It was in five minutes that we made 'Mania de Você'. We had just had sex, he picked up the guitar and I picked up the notebook and we started: 'Honey, you make my mouth water…'", he said Rita at the Songbook – Volume 2.
Kanye West – Bound 2
When Kanye West was still in a relationship with the real kim kardashianthe couple starred in a controversial music video. Kanye was sued for using a sample from Ponderosa Twins Plus Onea band that released the song "Bound" in the 1970s.
Taylor Swift – Lover
In "Lover", from the album of the same name, Taylor Swift sings about finding love after several breakups, when she was with the actor Joe Alwyn. This is just one of the love stories turned into music by the artist, and unfortunately none of them worked.
Oasis – Songbird
"Songbird" would be a song by Liam Gallagher for Nicole Appletonwith whom he was married from 2008 to 2014. It was launched in 2002.
Thom Yorke – Daydreaming
Thom Yorke It is Rachel Owen They remained together for an incredible 23 years, until they split amicably in 2015. Owenout of curiosity, is the artist behind the cover of Suspiria (2018), soundtrack album for the version of Luca Guadagnino from the film of the same name. In 2016, Rachel passed away as a result of cancer. In the same year, Yorke launched Daydreamingof A Moon Shaped Poolwho appears to have more than one song written for his ex-wife.
David Bowie – The Wedding Song
As the name suggests, "The Wedding Song" was written for the wedding of Bowie with Magnet. They were married from 1992 to 2016, when the artist passed away.
Paul McCartney – Maybe I'm Amazed
Paul wrote "Maybe I'm Amazed" for Linda McCartney right at the beginning of the relationship, the same period in which the Beatles they were separating. "The Lovely Linda" is another tribute.
John Lennon – Oh Yoko!
Talking about Beatles, John Lennon It is Yoko Ono formed one of the most iconic couples of all time and starred in an emblematic photo for Rolling Stone. "Oh Yoko!" is just one of several dedicated to the wife of Lennonmurdered in 1980.
George Harrison – Dark Sweet Lady
Still at the pace of Beatles, George Harrison is not left out: "Dark Sweet Lady" is for olivia harrisonwith whom the musician was married until his death in 2001.
The Cure – Lovesong
Obviously, "Lovesong" is a love song. Robert Smith dedicated it to his wife Mary Poole, to whom he has been married since 1988. The two met when they were just 14 years old and the song was written as a gift for his then fiancée. To show that you love Poole even far away, on tour, Smith dedicated "Lovesong" to her.
Evanescense – Bring Me To Life
The inspiration for "Bring Me To Life" came from Josh Hartzlercurrent husband of Amy Lee. When she was leaving an abusive relationship, she found support in Joshof those who speak in the music of Fallen (2003). The two got married in 2007 and are still together today.
Queen – Love of My Life
Although the love relationship did not last forever, Mary Austin was, declaredly, the love of his life. Freddie Mercury. He left her mansion and belongings when he died in 1991.
Charlie Brown Jr. – She'll Come Back (All the Flaws of a Perfect Woman)
"She Will Come Back" follows the love story between Whiner It is Graziela Gonçalves. They stayed together until 2013, when the singer died.
Coldplay X BTS – My Universe
The feat with BTS has already been dedicated live from Chris Martin The Dakota Johnsonwho have been together since 2017.
Hayley Williams – Crystal Clear
Hayley Williams stated to Pitchfork that the song is about "falling in love": "Despite my fear, my rigidity, or any resistance to vulnerability, I couldn't help but fall in love." "Crystal Clear" would be dedicated to Taylor Yorkband partner, in Paramoreand current boyfriend.
Sharon Van Etten – Hands
Sharon Van Etten has already stated that "Hands" was written for his partner after a silly argument. "This song is about forgiveness. Don't get mad about stupid things," he said at a concert at The Current, before singing the song.
Japanese Breakfast – Till Death
"Till Death" was written by Michelle Zauner and dedicated to her husband Peter Bradley. At the Tiny Desk recorded in 2017, the artist stated that the song "is about marriage" and took a look at Petersitting at the piano.
Source: Rollingstone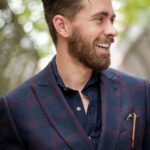 Earl Johnson is a music writer at Gossipify, known for his in-depth analysis and unique perspective on the industry. A graduate of USC with a degree in Music, he brings years of experience and passion to his writing. He covers the latest releases and trends, always on the lookout for the next big thing in music.