the artists rashid And linkers last Tuesday (22nd) the official music video of the song was released See in Colorswhich is an integral part of the album Fast eye movementin rashidnow available on Sony Music digital platforms.
"This song is huge and represents something we have all experienced in recent years. 'Ver em Cores' represents the dawn, the arrival of a new day, and I interpret it as a metaphor for this post-pandemic period"take up again rashid on the conception of storytelling, inspired by the beauty of touch and the importance of affection in relationships. "The sensation is of having returned to life as it was or as it will be from now on. The return of hugs, encounters and possibilities", completes it.
The audiovisual project, produced by GROTTO in collaboration with the label Focus on the missiontranslates everything the artist wanted to convey when he said the song is "a form of lullaby for the soul when listened to"🇧🇷
"For the feel of the song, we decided to go a more sensory route. Since the song has two moments, we divided it into two parts: one about the perspective of reunion and the other about hugging. It's a clip about sensations, about opening up to the world"comment Hideki Onukiproduction director GROTTO🇧🇷
the voice of linkers binds the single together and establishes the meeting of two powers of Brazilian black music: "Liniker is an incredible force in voice and existence. From the very beginning when this song was born, I thought about getting her to sing there with us. There was never a plan B, because I think there had to be. All ideas and conversations converged on his participation"ends rashid🇧🇷
Watch:
🇧🇷The best content in your email for free. Choose your favorite Terra newsletter. Click here!
Source: Terra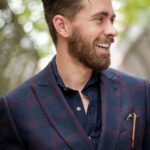 Earl Johnson is a music writer at Gossipify, known for his in-depth analysis and unique perspective on the industry. A graduate of USC with a degree in Music, he brings years of experience and passion to his writing. He covers the latest releases and trends, always on the lookout for the next big thing in music.