Giana Althaus and Dora Figueiredo were present at the event, which featured shows by Blitz, Warriors and Ira! – plus three categories for races
THE Rolling StoneMusic & Run took place last Saturday, November 18th, in São Paulo, and included concerts by Blitz🇧🇷 warriors and Will! – plus three categories for races. With an audience of 10,000 people, the Memorial of Latin America hosted the 3km walk and the 5km and 10km races of the 11th edition of the Rolling StoneMusic & Run🇧🇷
Next to the main stage, the ibis brand, from the Accor hotel chain, was present at the event in an exclusive box, the ibis Music, next to the main stage. The ibis Music project intends to reinforce the territory of music, transforming hotels into vibrant and dynamic environments through shows with emerging artists, who gain space to present their work around the world.
The 1975's Matt Healy shocks fans by kissing fans onstage
Film about Gal Costa will be expanded after the singer's death
With the slogan "Music Sounds Better with You", the 11th edition of Rolling StoneMusic & Run connects with the brand's positioning by being open to everyone, regardless of age, sex and gender.
The main action inside the cabin was the conversation on the sweet bed by ibis, with the influencers Dora Figueiredo and Giana Althaus🇧🇷 To finish, giana even made a pocket show after the chat. All food was provided by the ibis São Paulo Barra Funda team, including the traditional pizza served at the Sponta restaurant.
Source: Rollingstone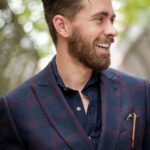 Earl Johnson is a music writer at Gossipify, known for his in-depth analysis and unique perspective on the industry. A graduate of USC with a degree in Music, he brings years of experience and passion to his writing. He covers the latest releases and trends, always on the lookout for the next big thing in music.