Dancer and presenter talks about how she prepares to face racism in the family and comments on the fashion for dances on TikTok: 'Evolution'
Dancer, entrepreneur, influencer, singer, mother and now presenter. There are many different ways to refer to Lorraine Improtawhich is better known as Lore.
The Bahian woman from Salvador, who started out as a dancer at the age of 9 in a project for Carla Perez's children, grew up accompanied by music. At age 18, Lore went to Canada to study and returned as a professional jazz and hip hop dancer.
It didn't take him long to "break through" in the art world. First, as a choreographer and one of the founders of the FitDance project. Then, as champion of the competition she was looking for a new member of the extinct ballet 'Domingo Fausto'🇧🇷
Since then, she has started her own dance project; she created 'O Fantástico Mundo da Lore', a musical project aimed at children; she became the muse of the Viradouro samba school; and today she is already the conductor. At Comic Con Experience (CCXP22), she hosted Universal Music's live with influencer Laddy Nada.
"I love presenting, it feels great," says Lore, in the exclusive chat she had with Terra on the final day of the event.
In a revealing conversation, Lore Improta even details how she prepared to protect her daughter Liz from racism. As a result of her relationship with singer Léo Santana, the multifaceted artist she says she began studying to develop racial awareness.
"I will never experience any kind of pain related to that, because I'm a white woman, but I need to study, not just for my daughter, or for my husband, but for society," she adds, who says she was very judgmental when he assumed the relationship with the pagodeiro.
Watch the interview in full:
Terra: The role of presenter is not new to you. But what is the experience of presenting from inside the CCXP22 like?
Improta Lore: I love performing, it feels really good. I received this invitation from Universal Music, for us to do the Universal Music Studio. I've shown four here at CCXP22, but I've already done two or three more with Universal. It's always wonderful, an incredible experience, a great team to work with. be doing [a live] from inside CCXP22, an event I didn't know about… It's the first time I've come, and it's gigantic. I'm impressed. It's a unique experience. We managed to find some fans of the artists, fans who come as cosplay… It's a different world. It is a world that seems separate from ours. It is very nice for us to be able to meet people and experiences. It was pretty cool.
For someone who has started dancing, what is it like to talk about music?
Music is part of my life and dance complements everything. I say that music excites me, in every sense, not just in relation to dance. If I'm in a bad mood, a little sad, music cheers me up. If I 'want' to talk to God, music makes this bridge for me. Music is always a part of my life. At CCXP22 there's a lot of talk about movies, and here I'm talking about music. I may not understand much about movies, but I understand music, because it's in my daily life, every day of my life.
The dance market in Brazil is going through a boom with TikTok dances. How do you rate this moment?
Dance, like any other market, is constantly evolving. TikTok will soon pass and another era will come. We, who are dance professionals, have to keep up with the news and trends. I try to follow TikTok a bit, but it's not really my style of dancing. Sometimes I go there for the fashion, I dance a bit or two, but I really follow my dance language, which is what I already work with on YouTube. We need that freedom. You have to join, you can't get stuck in the past. You have to start following the market more and more. Now, the trend is TikTok, soon something else appears and we adapt. All movements are very welcome, they enrich our art and I am very happy to be part of this generation too. When I started out, dancing wasn't that strong on the internet. It already existed by Daniel Saboya [coreógrafo]but it wasn't that strong. Today I think it's still the biggest dance channel, but I say there was no 360º movement.
How do you manage to reconcile motherhood with work?
I have a very large support network and I am very thankful to God for that. We know that when you are a mother, you end up giving up many things, sometimes more than the father. Motherhood demands more of us. This network allows me to work, because they are people I trust a lot, who I know are giving affection and attention to my daughter, and this makes us more relaxed in coming here and working. We have an agreement: when I have to be away from home for more than two days, she comes with me. So she is here in São Paulo, with my mother and the nanny who works with us. It's okay, because I'm close to her when I'm not working. She feeds me. Even this week, when she's a little sick, with a tooth coming in, I thought, 'I'm glad she's here with me.' I leave my job and I already fill her with love and dengo.
Unfortunately racism is present in society, does this affect your daughter's education?
This topic came up in my life when I got into an interracial relationship. I've always been very judgmental, and Leo [Santana] moreover, much judged of 'palmeiro' [expressão pejorativa usada para se referir a pessoas negras que apena se relacionam romanticamente com pessoas brancas] for being with me. From that moment, and especially after I got pregnant, I thought: 'My daughter is a black child, whatever the color of her skin', and I started studying. This is how we can begin to have some racial consciousness. I will never experience any kind of pain related to this, because I am a white woman, but I need to study, not only for my daughter, or for my husband, but for society. I'll never feel it myself, but the racism is there. Regardless of my daughter being the daughter of two artists, she is not free from any kind of prejudice in the future, and even now, since she is already dead. On my Instagram I get messages and everything. I have to prepare myself and try to protect her as much as possible so that she doesn't suffer so much. All I can do, which is within my reach, will make her suffer less from this issue of racism, which unfortunately is structural.
🇧🇷The best content in your email for free. Choose your favorite Terra newsletter. Click here!
Source: Terra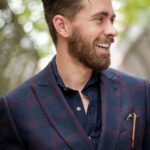 Earl Johnson is a music writer at Gossipify, known for his in-depth analysis and unique perspective on the industry. A graduate of USC with a degree in Music, he brings years of experience and passion to his writing. He covers the latest releases and trends, always on the lookout for the next big thing in music.