Pagodeiro compares the platform artists to comets on the eve of celebrating their 10-year career
The ephemeral world of music sometimes does not allow a singer to reach a ten-year career, like the pagodeiro Dilsinho starts celebrating in 2023. To mark the beginning of these celebrations, the singer has released the EP 'Diferentão', with the bold proposal to please the most loyal audience and attract more people to the sound mix that he has decided to make .
The singer is aware of the challenge, especially since new technologies have made the market even faster and the public with ever less time to consume content.
"For those who sing romantic music, this is the most difficult mission," admits Dilsinho, in an exclusive interview with Land. "It's hard for you to tell a story in 15 seconds, for people to understand at first what you're trying to say in that song," she adds, referring to the standard tempo of an Instagram 'Story.'
For the pagodeiro, the work must mark people longer than a short video.
"'15 Seconds' artists don't always stick around. They're not always a part of people's lives for very long," he says.
While acknowledging the ability to tell stories in such a short time as "maturity", without losing sight of his presence in people's lives, Dilsinho defends that work only lasts if there is an emotional bond with the fans. And that's what he says he wants for his future, including: not being a "comet", but a "career artist".
ten years of pagoda
It has been ten years since he emerged, in 2013, with his self-titled first album. Since then, Dilsinho has established himself in the pagoda scene and the Brazilian music market, with songs like 'Thunder', 'Hostage' And '12 hours'. In a market dominated by the sertanejo and, more recently, by bregadeira and piseiro, Dilsinho avoids betting on obstacles.
One of them is the purchasing power to boost an artist in the beginning of his career, as with the sertanejo. The pagodeiro refuses to limit itself to lack of investment.
But the numbers he racks up on digital platforms prove he's got a strategy that's working: There are more than three million monthly listeners on just one streaming platform, and more than five million fans on YouTube.
The success has opened up new possibilities for the pagodeiro on Rio de Janeiro's Ilha do Governador, which has now decided to experiment more with the 'Diferentão' project. For him the most important of his career.
"I understood what my audience wanted from me and in that time I have matured a lot. I complete 10 years of career at the end of 2023 and I am sure that this DVD will take me to a very special moment this year," he points out.
The singer's bet is that, even if they are a little different, captive fans will still appreciate the new songs and understand the mix proposal.
"I wanted to show that people don't need to be afraid to be different and, yes, appreciate what's special about them. I've always sung pagodas, but I've also sung a little bit of everything. I've always been a person with a very strong music, so I wanted to demonstrate that with the holdings, which are artists I identify with from very different niches," he explains.
Recorded in October last year, in São Paulo, the album brought together names such as Gustavo Mioto, Mr. Dan, Diego and Victor Hugo, MC Chris, Cynthia Luz and Kamisa 10, and is now available.
+The best content in your email for free. Choose your favorite Terra newsletter. Click here!
Source: Terra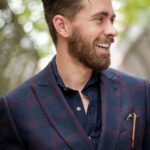 Earl Johnson is a music writer at Gossipify, known for his in-depth analysis and unique perspective on the industry. A graduate of USC with a degree in Music, he brings years of experience and passion to his writing. He covers the latest releases and trends, always on the lookout for the next big thing in music.