Cover of the digital edition of Rolling Stone Brasil in January, Manu Gavassi recalls his first experiences as an artist and comments on future projects
The conversation begins in a good mood. Manu Gavassi is at ease. She tells an anecdote about lunch and narrates a mix-up in her schedule. Laughs at herself. It looks comfortable — and it is! At the age of 30, just completed, she confidently embraces maturity and confesses that she has found a personal and professional path in calm.
Assumed Capricornian and São Paulo to the point of saying enough, Manu grew up in the artistic environment and was successful at a very young age, releasing two albums before turning 20. "Was a Manu super well intentioned and completely unsuspecting," she joked. "I was very happy, very sure of my path. I wanted to work, but I didn't want to waste my youth."
HARRY STYLES
Harry Styles: items that all fans of the singer need to have
The best memes posted by Whitesnake's David Coverdale on Twitter
Ten years later, Gavassi knows that she is no longer the same girl who broke through the internet. "I am a 30-year-old woman, with a story to tell, who has already gone through several phases, places and stages", she commented. Manu. On her most recent record — after which she twice received MTV European Music Awards as Best Brazilian Artist — she even sang about her "selective maturity". "I miss the innocence of my 20s, but maturity brings me comfort — and I was always an old soul, you know."
Manu of stages and spotlights vs. Manu director
What Manu calls "old soul" is perhaps the result of those who knew, from a very early age, what they wanted to do. Always encouraged by parents, Daniela and Ze Luiz, Manu remembers one of his first screen tests, with the renowned director Anna Muylaert (What time does she come back?), when he was just seven years old. Already at the time, he gave signs of his conviction:
On test, Anna asked me: 'Manu, if I play a song now, will you dance?'. And I said no. I didn't understand why I had to dance, I hadn't rehearsed anything. And that shows very well who I am. As much as I have lapses of spontaneity, this more controlling profile has always existed in me."
Today, the artist confesses that dealing with control (and the lack of it) is one of her biggest difficulties — and it even became a New Year's promise.
"I always needed to be very in control of things to feel safe. A lot of this is because I started as a teenager and, when I grew up, I realized that not only could I have an opinion, but I could do and decide everything. But that's my promise for this year, my main challenge: to stay a little calmer and learn even the beauty of not having control, "she comments.
Between the stage and the screen
"Calm" and "maturity" do not mean putting the brakes on for the artist, who made 2022 one of the busiest years of her career. "It was the year I worked the most", she says, categorically. "I saw a lot of people questioning the award of the MTV EMA, because, for them, I 'disappeared'. And I find that really funny."
I did a lot of things last year and since leaving big brother. I made a series MaldivesI made a movie on amazonThe I feel good with youI made the disk CUTE, I recorded a visual album for Disney+. Not to mention all the projects that haven't come out yet. So it's pretty crazy to hear that I don't do anything," he said.
In 2023, she launches the Acoustic MTV: Manu Gavassi sings O Fruto Proibidolong-awaited re-recording of the classic 1975 album by Rita Leewhich premieres in February with the blessing of the Rita and becomes a schedule of shows in Brazil soon.
I think the Rita very restless as an artist and that inspires me a lot", commented Manu. "When I received the invitation, I knew it was the right time to honor this woman I love so much. I was very honored to be able to do this, that Rita felt flattered. It's a project I can't believe I did."
But Manu goes beyond the stage this year and also debuts in the film 'There is no turning back', which he recorded with Rafael Infante in a month and a half. "It's a romantic action comedy. Whatever that is, that's what we did," she joked. "I love acting and I enjoy acting with talented people, which is the case with Rafael. I feel very comfortable doing comedy", he comments — resorting again, and not for nothing, to the idea of ​​comfort in his present.
As she leaves behind a "youth icon" ideal that has helped pave her career for the past 12 years, Manu glimpses on the horizon the anachronism of a life dedicated to creation. "I will hardly stop creating in this life. I think I came into this world for this. I like to create, to work, to learn new things", he says. And he ponders: "I understand that I am already who I dreamed of when I was a child. This is wonderful. I'm already in a delicious place."
Text: pamela mauve
Photos: @ivanerick
Styling: @carolroquiete_stylist
Fashion production: @layse.araujo
Make: @dindihojah
Press office: @accessmidia
Source: Rollingstone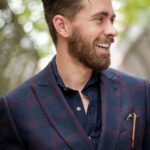 Earl Johnson is a music writer at Gossipify, known for his in-depth analysis and unique perspective on the industry. A graduate of USC with a degree in Music, he brings years of experience and passion to his writing. He covers the latest releases and trends, always on the lookout for the next big thing in music.