A call for respect for Arab and Islamic culture, condemning extremism while relativizing its purposes with the right doses of demagogy.
The devious Judd Apatow knew how to see it before anyone else. The Western romantic comedy had to adapt…or die. If he wanted to survive in the age of new sensibilities, identity politics, globalization and activism millennial It had no choice but to be internationalist, like communism. Balancing with doses of commitment and rapprochement with other cultures and minorities the parts that were least liked by the new normality, but which did not stop constituting its inalienable essence: the idealization of romantic love and the use of predefined and more or less universal archetypes, in addition of the doses of frivolity that the formula required. A film like 'The Great Love Sickness' (Showalter, 2017), an artifact behind Apatow Productions, briefly exemplified the new path to follow. Public and critics took the bait, and did not give much importance to the fact that, behind its beautiful mask, comedy sold us the same light idealization, the same postcard romanticism and the old new liberalism.
The more than Near East
Now, 'And what does love have to do with it?', apart from shooting the original title of Tina Turner's biopic directed by Brian Gibson in 1993, he intends to do something similar by narrating a romance between a British journalist and a Pakistani man (Lily James and Shazad Latif; handsome, striking but without spark) trying to address the issue of arranged marriages (or, ahem, assisted) seeing them as a positive part so as not to hurt identity and cultural sensibilities. Why not? In 2008, 'Baby Mama (surrogate mother)' by Michael McMullers also showed us "the bright side" of surrogacy, so the idea was not so far-fetched. The film by the Pakistani Kapur (director of 'Elizabeth and Elizabeth. The Golden Age', but also of a very boring remake of 'The Four Feathers') intertwines his reflection with a sentimental vindication of the classics of the genre, from the nineties onwards. Garry Marshall and Richard Curtis, basically. Also 'Marriage of convenience', 'Bridget Jones's diary' and, above all, 'My big Greek wedding' and the inescapable 'When Harry met Sally', from which he steals a structure supported by interviews on camera, adding, by the way, the leitmotiv of the fairy tales that will accompany the character of James throughout his adventures, so that we do not forget what is really being told to us. He brainstorming With which the plot starts, in this sense, it is pure Apatow: so typical of him is to expose the ridiculous and calculated point of view to, immediately afterwards, embrace his strategy without regard.
If it works, it's because Jemima Goldsmith Khan's screenwriter (beware, British billionaire married to Pakistani Prime Minister Imran Khan; in case there was any doubt that this is anything but proletarian cinema) He knows what he is talking about and the director manages to give the ensemble a bit of heart and coherence, also being inspired by the findings of series like 'Master of none' or 'The Mindy Project', created by giants like Mindy Kaling and Aziz Ansari. And because the film is still something similar to the superior 'The Guru of Sex' (Daisy von Scherler Meyer, 2002) but with a more affected rictus, which sometimes turns into a grimace. And, at the same time, the version Light and politically correct of the vitriolic 'East is East' (O'Donnell, 1999), showing that this generation of filmmakers is not inventing anything either. or an appendage mainstream and late in the notable and more honest 'El próximo Oriente' (1996) by Fernando Colomo… Shall we continue? Better not.
What do we get in the end? What we expected: a yes but no, or a no but yes. A call for respect for Arab and Islamic culture, condemning extremism while relativizing its purposes, equating them, incidentally, to certain clichés of an already internalized Western culture (the busybody matriarchs) with the right doses of demagogy. The strange thing (and, to a certain extent, the triumph) is that, getting into such a garden, Kapur's film reaches a moderately reasonable and well brought conclusion. And that small details, such as the treatment of the character of Sajal Ali, show shreds of genuine commitment in a group that has nothing to envy to the comedies of Vardalos or Showalter, but still looks at its older sisters from a distance. For her part, Emma Thomson, as a secondary comic, seems doomed to recreate the mature version of her shtick in 'Junior' (Reitman, 1994).
Ideal for reconciling short-flight sociopolitical reflection with the emotionality of the Disney imaginary
​
DATA SHEET
Address: shekhar kapur Distribution: Lily James, Shazad Latif, Emma Thompson, Nikkita Chadha Country: United Kingdom Year: 2022 Release date: 17–3-2023 Gender: Comedy Script: Jemima Khan Duration: 108 min.
Synopsis: As Zoe films her friend's hopeful journey from London to Lahore to marry a stranger chosen by her parents, she begins to wonder if she might have something to learn from a different approach to finding love.
Source: Fotogramas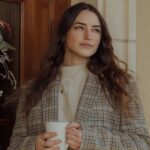 Emily Jhon is a product and service reviewer at Gossipify, known for her honest evaluations and thorough analysis. With a background in marketing and consumer research, she offers valuable insights to readers. She has been writing for Gossipify for several years and has a degree in Marketing and Consumer Research from the University of Oxford.