Maluma presents "June", a happy and romantic pop-urban song that talks about the attraction that makes you feel that special someone, like it's summer in June.
'June' will be part of Maluma's next record productionwhich will mark the pursuit of his essence to the rhythm of urban pop present on his latest album "Papi Juancho".
The official video for "Junio" was shot in Medellín, Colombia, under the direction of Maluma himself. We see the singer in a colorful district of the city where he evolves a thrilling story between him and a girl who turns out to be deaf and mute.
Maluma insisted that the role be played by an actress with the same condition and is played by Jenifer Pulgarín, a talented deaf Colombian actress.
In this story, Maluma is captivated by her, asking the sky for her to listen to him and they finally manage to connect regardless of their hearing impairment, united by the rhythm of this song and the heart.
Source: Qmusica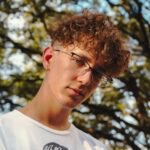 Benjamin Smith is a fashion journalist and author at Gossipify, known for his coverage of the latest fashion trends and industry insights. He writes about clothing, shoes, accessories, and runway shows, providing in-depth analysis and unique perspectives. He's respected for his ability to spot emerging designers and trends, and for providing practical fashion advice to readers.