Sarah Michelle Gellar, interpreter of Daphne, revealed a kiss between the characters in the film Scooby-Doo, 2002
Sarah Michelle Gellarinterpreter of daphne in Scooby-Doo (2002), stated that the kiss scene between her character and Velma Interpreted by Linda Cardellini, has been deleted. The actress was on the American show Watch What Happens Live with Andy Cohen last Thursday, 2.
Questions about an alleged "parallel relationship" between the characters came from viewers of the show (via People).
"I don't know about a parallel relationship," said Sarah"but there was a 'hot' moment – I mean, but they probably didn't think it was, so it was cut… ."
The host Andy Cohen asked the actress to explain and she confirmed that there was a kiss between the two characters:
"Kiss, yes, it was cut. It was a real kiss between Daphne and Velma that was cut. I feel like the world wants to see it, but I don't know where it is."
Scooby-Doo: Velma is confirmed as a lesbian in the new series
The trailer for the character's new animated series Trick or Treat Scooby-Doo! showed that Velma is a lesbian. The confirmation comes after years of fan theory.
the scenes show Velma finding the character Coco Diablo and she's instantly smitten with her flushed face and foggy glasses, plus romantic music playing in the background. in another scene Velma is also shown admiring other traits of Coconut beyond just her looks, including her fashion sensibilities and smarts.
Source: Rollingstone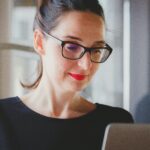 Emma Jack is a writer at Gossipify, covering fashion, beauty, lifestyle, and pop culture trends. She stays current on the latest trends and offers readers up-to-date information on what's hot in the industry. With a background in fashion journalism from Parsons School of Design, she offers a unique perspective and analysis of current trends.