Rafa surprised everyone by radically changing his style: he adopted a short platinum haircut
Rafaela Santos is known not only for her relationship with one of soccer's biggest stars, but also for her authentic and bold style.
Her unique personality has already garnered over 6 million followers on Instagram, where the influencer shares a little more about her daily life, looks and fashion vision with fans and admirers. Those who accompany her consider her an icon of new trends!
Recently, Rafa surprised everyone by radically changing his style: he adopted a platinum-colored short haircut, very pleased with the new look. The change has generated numerous compliments on the Internet, further strengthening the influencer's image as a fashion and beauty reference in Brazil and around the world.
"People are used to seeing me with long, curly or curly hair. I am a person who really likes changes and this one had a different importance. It wasn't just the hair, but also my way of seeing life. I'm always trying to transform myself into an ever better person and I wanted a cut that carried that lightness."
In love with her hair transformation and also with her lifestyle, Rafaela also encourages other women to do like her, motivating and giving a voice to those who need to be more daring in their lives.
"And women change! Do what you want! Don't let anyone dictate the rules and be happy," said the influencer.
It doesn't stop there! In addition to sharing her perspective on the industry, Rafaela has also started a new project, Free for You, in which she uses her personal Instagram to give a voice to the many people who struggle daily to show the public their ideas of sustainable actions, works of , music, lifestyle, fashion, among other topics.
The goal is to enhance the initiatives, encouraging and bringing greater visibility to those who work to make a difference in the world.
Through her surprising personality and driven by encouraging causes of greater relevance to society, Rafaela Santos consolidates herself as an inspiring professional, but also as an equally relevant person for the millions of followers who accompany her.
Source: Terra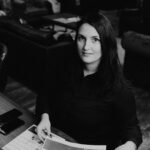 I am Amanda Gans, a motivated and ambitious professional in the news writing industry. With over five years of experience in this field, I have developed an eye for detail and an ability to craft stories that captivate readers. I currently write for Gossipify, where I specialize in beauty & celebrities news. My passion lies with exploring the world of beauty through writing, interviewing experts and developing articles that are both informative and entertaining.