Some movies don't need a publicity stunt to get to the top of Netflix. A Beautiful Life proves this by taking second place within days of its release thanks to word of mouth.
This Danish musical follows a young fisherman with a hidden talent who is spotted by a music producer. She must decide if she's ready to accept fame… but also find love.
This beautiful romance with poetic ballads could have been drawn from a true story, as it features the singer Christopher Lund Nissen. The latter is a superstar in Denmark, where his velvety voice has enchanted his fans for several years.
It's the first time it's been on camera for Netflix. The 31-year-old rightfully asked screenwriter Stefan Jaworski not to take inspiration from his own life.
Unlike his character Elliot, Christopher is not an orphan who grew up alone on a boat. However, he has a younger brother named Oliver, just like the one who plays his best friend in the movie. The singer himself wrote and performed all the songs of A Beautiful Life, which can be found on music streaming platforms.
On AlloCiné, viewers generally voted for the Netflix movie:
"The music is great, this movie is so moving, we all shed little tears because it's beautiful. I recommend it to everyone." (Emma F)
"A very exciting short film. A bit predictable but who cares. Actors touch. We quickly succumbed to singer Christopher's voice. His songs are very beautiful, I couldn't stop crying at the end. (Jocelyn M.)
"This movie is incredibly beautiful! At the end we cry… The songs are beautiful and full of feelings." (Astromae)
"It's a very good movie, but I was disappointed with the ending. I was expecting more, a sequel, and I hope they do." (Omar Bak)
"Two stars because the guy sings well but is otherwise downright boring! There's no point in watching this movie" (lily)
Source: Allocine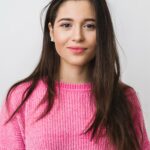 Rose James is a Gossipify movie and series reviewer known for her in-depth analysis and unique perspective on the latest releases. With a background in film studies, she provides engaging and informative reviews, and keeps readers up to date with industry trends and emerging talents.