Actor Kit Harington announced Friday night (3/2) on the Jimmy Fallon talk show that he is becoming a father for the second time. His wife, the actress Rose Leslie, is pregnant with their second daughter.
The couple met while filming the series "Game of Thrones" and have been married for four years.
The first child was born in 2021 and, according to Harrington, is about to experience the biggest shock of his life when he learns that he will become the big brother of "a new brother or sister".
Harrington said his son still doesn't understand what's coming. "We point to Rose's tummy and say 'Mommy's baby,' but then she points to her own tummy and says 'My baby,'" the Jon Snow performer laughs.
The actor himself said he was "terrified" by the second pregnancy. "Reality strikes faster," he explained.
Source: Terra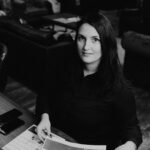 I am Amanda Gans, a motivated and ambitious professional in the news writing industry. With over five years of experience in this field, I have developed an eye for detail and an ability to craft stories that captivate readers. I currently write for Gossipify, where I specialize in beauty & celebrities news. My passion lies with exploring the world of beauty through writing, interviewing experts and developing articles that are both informative and entertaining.