Actress Tessa Gourin described herself as actor Jack Nicholson's "lost daughter" in an article published in Newsweek magazine, in which she claims that the artist rejects her and never wanted to maintain a paternal relationship with her.
The 28-year-old is Nicholson's daughter with Jennine Marie Gourin, who was a waitress in her 20s when she was knocked up by the actor.
Tessa highlighted that many people have already been "forced" to live with "the pain of parental absence", but in her case it is even more difficult because Nicholson only ignores her, but is present in her brothers' lives.
To make matters worse, she has decided to pursue an art career and would like the support of her famous father, but he refuses to help her.
"One of the most influential players in the industry is my biological father, but for some reason he's not interested in having a relationship with me. He's always made me conflicted to pursue something that I really love," she said.
"When the kids she recognizes decide to act, that's fine. But if I want to be an actress, it's cheesy or exploitative," she added.
Jack Nicholson has four other children, all older than Tessa: Jennifer Nicholson, daughter of actress Sandra Knight (the actor's only wife), Caleb Goddard, son of actress Susan Anspach, Honey Hollman, daughter of model Winnie Hollman , and Lorraine Nicholson, daughter of actress Rebecca Broussard.
Retired from acting since 2010, Jack Nicholson is currently 85 years old.
Source: Terra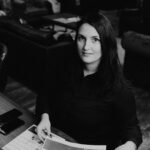 I am Amanda Gans, a motivated and ambitious professional in the news writing industry. With over five years of experience in this field, I have developed an eye for detail and an ability to craft stories that captivate readers. I currently write for Gossipify, where I specialize in beauty & celebrities news. My passion lies with exploring the world of beauty through writing, interviewing experts and developing articles that are both informative and entertaining.