______________________________
Brad Pitt and Co. continue to promote the action movie Faster than a Bullet, which will be released worldwide on August 5 (except Russia). Yesterday, a film crew led by the main sex symbol of Hollywood arrived at their next destination – Berlin. All the same leading actors appeared on the red carpet: Joey King, Aaron Taylor-Johnson, Brian Tyree Henry and others.
The 58-year-old actor came out to the photographers in a chocolate-colored linen suit from a jacket and a skirt just below the knee with an asymmetrical raw edge, and a salmon-colored shirt, only half buttoned, complemented it. Army-style semi-boots and sunglasses added brutality to the image. In general, the actor chooses linen for the last exits and this is a great life hack for the summer – now in almost all European countries there is an abnormal 40-degree heat.
Brad wears skirts not for the first time: in 1999, the actor starred in the later iconic photo shoot for Rolling Stone magazine. In the footage, he appeared in mini dresses and skirts. And in 2004, on the set of the historical adventure drama directed by Wolfgang Petersen, Pitt, who played Achilles, wore a skirt almost all the time as part of a historical costume.
I've never spent so much time in a skirt in my life as I did on the set of Troy. But skirts aren't that bad. Hell, they're not that bad at all," he told reporters.
In addition, last year, Pitt admitted in an interview that following trends is too tiring and he just chooses comfort. So it is likely that the skirt in the heat seemed to him a cool option.
Source: Hellomagazine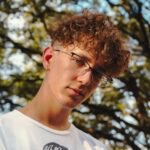 Benjamin Smith is a fashion journalist and author at Gossipify, known for his coverage of the latest fashion trends and industry insights. He writes about clothing, shoes, accessories, and runway shows, providing in-depth analysis and unique perspectives. He's respected for his ability to spot emerging designers and trends, and for providing practical fashion advice to readers.