______________________________
Well it's done — The first episodes of the much-discussed Netflix documentary series Harry & Meghan have been released online. Contrary to the doubts of the audience, the Duke and Duchess of Sussex nevertheless showed rare footage with their still very tiny son Archie and daughter Lilibet, and also talked about how they met each other.
On the show, Harry admitted that he first noticed his future wife on social media. He saw a video with Megan in the account of one of his girlfriends and was so intrigued that he decided to find out everything about the actress. When a mutual friend told Megan that the British prince was interested in her, she did not understand who she was talking about and asked the girl to show her his page. Megan liked Harry's nature photos so much that she agreed to meet. After that, they exchanged phone numbers and communicated in this format for a long time.
However, according to the prince, he was late for the first date with Megan due to London traffic jams, which did not make the best impression on the actress. The meeting was scheduled in one of the bars in central Soho.
I panicked. I was nervous. I was sweating, Harry remembered.
I thought then that he was one of those guys with an inflated ego. I thought you thought it was normal to make a girl sit and wait for you. I was not interested, – admitted Megan. But he was so cute at the time. The way he is. Confused and late.
Note that in the first episodes, Harry and Meghan film themselves immediately after they officially resigned their royal powers. This means that the Sussexes began documenting their personal lives at least six months before signing a deal with the streaming giant Netflix.
According to insiders close to the royal family, the content of the documentary series is causing serious concern at Buckingham Palace. Sources believe that Meghan and Harry actually declared war on relatives by deciding to let Netflix cameras into their house.
Source: Hellomagazine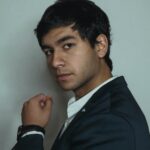 Jason Root is a writer at Gossipify, known for his in-depth coverage of famous people in entertainment, sports, and politics. He has a passion for uncovering the stories behind the headlines and bringing readers an inside look at the lives of the famous. He has been writing for Gossipify for several years and has a degree in Journalism from UC Berkeley.