______________________________
About family
One of the earliest and most vivid memories of my childhood: I am about three years old, and I insistently demand from my mother permission to go down the stairs without anyone's help. After the first step, I fly down, face down into the asphalt. My thick cheeks saved me from severe bruises. (smiling) She escaped with only a couple of abrasions. This moment perfectly characterizes me: at first – no help is needed, I myself, then – a crash.
I have wonderful parents. I like to attend social events with my mother and take part in joint filming. We have always had friendly and trusting relations, however, with a short break for a transitional age. Now we prefer not to remember these couple of years.
We have a tradition in our family – we love to watch Soviet cinema together. "Big Break", "Love and Pigeons", "Sportloto-82", "Dog in the Manger", "It Can't Be" – we watched them dozens of times and remember them verbatim. Therefore, we often talk and joke with each other with quotes from these films. Such is the language of the Minogarovs.
About friendship
Every time I come to my native Krasnodar, I go around all my friends – from my beloved friend Victoria to classmates and colleagues from my first jobs.
It is difficult for me to part with people, even with my exes and their new misses, I communicate well. It happens that people imperceptibly move away, we see each other less often, but I know that this separation is not forever, it's just a short pause.
About health
I had my thyroid removed two years ago, and I'm still struggling with the consequences of the operation. My metabolism has completely changed, now I am constantly in the fight against new kilograms. As it turned out, it is quite difficult to find the right hormone therapy, but I work on it every day.
After the operation, the doctors forbade me to get pregnant for five years. I don't know yet what are the advantages of being a young mother by the age of 40, but now – at 33 – I'm definitely not ready for children.
About your show
I always wanted to make jokes on YouTube, but the format of stand-up or prepared jokes was not given to me. Once a friend and I were discussing one of our acquaintances while reading telegram channels, it was fun and easy, and the thought immediately flashed through my head – we need to write this down urgently. And so the format of "The Day Before Yesterday's News" was born. But instead of washing someone's bones, it is much more interesting and pleasant to talk about fashion, and besides, I really understand this issue.
It was important for me to tell and show those who create something valuable, but do not have the resources to broadcast it to the masses. So the idea came up with pictures against the background of the presenters. We ourselves are looking for artists, we bring and install their works in the studio at our own expense and tell our viewers about them.
Shooting is often difficult for me. And it's not that I don't want to act or I can't tune in to work, I'm just worried about the result. This is very exhausting for both me and those around me.
About style
I would describe my style as youthful. I try to support Russian designers – for the "The Day Before Yesterday" we often take clothes created by our compatriots. Viva Vox, Vereja, WOS, Roma Uvarov, Ushatava… this list could go on for a very long time. I like art things, because of my high growth in them I look organic. Of course, I have had fashionable blunders, but I prefer not to remember them.
Despite the fact that I am friends with many designers and brands, a significant part of my budget goes to wardrobe. To be honest, I have no idea what else you can spend money on.
Text: Galina Kryuchkova
Photo: Anna Dmitrieva
Style: Mischa & Kitty
Makeup and hairstyle: Tata Khitrova
Producer: Olga Zakatova
Photographer's assistant: Vasily Patrakov
Producer assistant: Elizaveta Kondakova
Source: Hellomagazine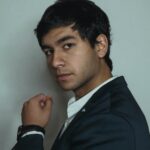 Jason Root is a writer at Gossipify, known for his in-depth coverage of famous people in entertainment, sports, and politics. He has a passion for uncovering the stories behind the headlines and bringing readers an inside look at the lives of the famous. He has been writing for Gossipify for several years and has a degree in Journalism from UC Berkeley.