photo: courtesy of Dr. Martens
Who doesn't love them or at least doesn't know them, after all, for a quarter of teenagers, shoes are made by Dr. Martnes very specific style in dressing and general attitude to life. Since their inception for the past 62 years, "Martensky" have accompanied millions of people around the world for a certain period of time, and many will not let them go even with advancing age. As well as they could, quality leather shoes with a straightforward style can charm at first glance. This is not the case with the new collection, which represents much more than just a pair of chained shoes.
Hokusai's work transcended class structures and geographic boundaries—defying elitism and engaging the masses. This collection pays tribute to his work on a new canvas – the silhouettes of Dr. Martens. By the time Katsushika Hokusai began work on "36 Views of Mount Fuji" in his 70s, he had reinvented himself several times. He paved the way that gave working people the possibility of a new perspective on the world of art. The mass production of his "ukiyo-e" woodblock prints meant that the art was no longer limited to high-ranking elites. They sold by the thousands – desirable, collectible and full of his creative spirit.
photo: courtesy of Dr. Martens
Katsushika Hokusai's most famous image, "Under the Wave off Kanagawa," also known as "The Great Wave," perfectly captured the energy and potential of a single moment—and has since developed its own life force. The first collaboration of Dr. Martens with The Met is a tribute to the enduring energy and inspiration of Hokusai's work – combined with the silhouettes of Dr. Martens offering a new canvas. Stages, sidewalks and factory floors are galleries — wearers are collectors. Art should be seen everywhere. And Dr. The Martens have miles to go.
The Met 1460 is imprinted with "The Great Wave" and pays homage to the world's most recognizable Japanese artwork. Textured leather evokes an imitation of canvas, the shoe features gold eyelet detailing and toned laces with gold tips. The shoes with an unmistakable sole also feature yellow stitching and a typical loop above the heel.
The Met 1461 is of the same material and with another print from the 36 Views of Mount Fuji' series. Fuji from Gotenyama in Shinagawa on the Tokaido showing a crowd gathered for a picnic under a cherry blossom tree at Gotenyama. There are also details with gold eyelets and toned laces with gold tips.
photo: courtesy of Dr. Martens

Source: Moda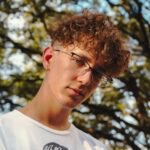 Benjamin Smith is a fashion journalist and author at Gossipify, known for his coverage of the latest fashion trends and industry insights. He writes about clothing, shoes, accessories, and runway shows, providing in-depth analysis and unique perspectives. He's respected for his ability to spot emerging designers and trends, and for providing practical fashion advice to readers.