______________________________
Roman "Azazel" and you — peers. When did you meet?
Since childhood, I loved detective stories and read various teenage books. Films also loved in this genre. And somehow the parents bought a DVD-ROM "State Counselor". I have watched it 20 times, probably. And then my mother told me about Akunin and his detectives, and I read the rest. Interestingly, it was "Azazel" that I liked the most.
The first film "Azazel" was released over 20 years ago. In it, the role of Lisa was played by Marina Aleksandrova. What was important for you to convey in the modern version of the heroine?
Wow, this was an amazing show with an amazing cast! In general, all existing adaptations of Fandorin's adventures are magnificent, to be sure. Therefore, Nurbek immediately told Vlad and me that we should not review anything, so as not to accidentally repeat after someone. We have an alternate reality, different circumstances and different characters. But no matter what time you take, there will always be castes, social inequality, hierarchy. My heroine wants to break out of social shackles and be truly happy. And as you know, love conquers all.
What is the difficulty in playing a heroine who has been living on paper for a long time and has already appeared on the screen?
Honestly, I didn't even think about it, that it could be somehow difficult. Of course, there is a sense of responsibility. Akunin's books and Fandorin's universe have a huge fan base, which has a certain idea about each character. But since we're in an alternate reality and things don't quite work out the way they do in the book, it makes things easier because we basically built everything from scratch. Both history and characters. But this also has its own danger, since not everyone is ready for changes in history. But we are not puzzled by tasks and are not hampered by difficulties!
This is your first major role in such a large-scale project. When you were approved, who did you tell first, how was it?
The tests themselves went very easily, and I already left there with the feeling that they would approve me. We talked with Nurbek Egen for an hour or an hour and a half about our views on life, on cinema, on the profession, and the scene itself was recorded for tests literally in one or two takes. When I found out that they approved, I was terribly happy! Especially when I found out who my partners on the site would be. It seems that I didn't tell anyone right away, because I always keep this information a secret until the last moment, until at least an agreement is drawn up. I'm so calm. I keep this energy to the last.
Fame came to you after the TV series "Difficult Teens". What kind of teenager were you?
I was lucky to study at the Physics and Mathematics Lyceum, where it was not customary to behave wildly. Of course, I rebelled a lot (perhaps this restlessness of character still manifests itself in me), but I have never had such extremes in my life as the heroes of the series.
You are meeting with your colleague in the Difficult Teens project Svyatoslav Rogozhan. You studied together on a course with K. Raikin. Did you first become partners and then a couple? How did your romance develop?
The first two years of the institute, we almost did not communicate. I don't know why, it just didn't feel like it. And suddenly, in the spring, at the end of the second year, it was as if a light illuminated us. We fell deeply in love, and these feelings are only getting stronger to this day. And then, literally a month later, both of us were approved for the series, and we also starred together all summer. In general, this is definitely a craft of fate (smiles).
You studied at the Shchepkinsky School, then transferred to the Moscow Art Theater School and only from there moved on to Raikin. What were you looking for?
Very good question, thanks! I think I was looking for specifics, school. So that there is a place for improvisation and search, of course, but also that the profession is explained. I have a very rational mind, I need to understand everything, explain it, I always ask everyone a million questions, everything is interesting to me. We already have a rather ephemeral profession. The plumber comes, looks at the pipe and immediately understands what the problem is, what tools he will get and how he will fix it. What about an actor? (smiles) Read the script, now what? It was important for me to learn specific craft tools.
Source: Hellomagazine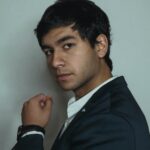 Jason Root is a writer at Gossipify, known for his in-depth coverage of famous people in entertainment, sports, and politics. He has a passion for uncovering the stories behind the headlines and bringing readers an inside look at the lives of the famous. He has been writing for Gossipify for several years and has a degree in Journalism from UC Berkeley.