Not just any Mario, no, the Nintendo64 Super Mario Bros. The best of all and in which Brad Pitt is inspired. I have no doubts, but I do have proof.
I spent my childhood doing two things: reading Fotogramas magazine (I still keep their annual calendars), and playing nintendo64. Yes, as a good girl born in the eighties I liked nothing more than saving the princess Peach from the clutches of the wicked Bowser with the help of Mario and Luigi in which, stop nonsense, it's The best video game in history: Super Mario 64. Because, and believe it or not, long before Marvel came into our lives, superheroes wore dungarees and were dedicated to plumbing.
That now it turns out that you are all that you do not stop talking about the HBO series The Last of Us and hey, I'm not saying that fighting for your life during the end of the world isn't exciting and such (if that's what it's about, I haven't seen it or played the video game), but nothing like getting to do a somersault face the wall to land on a carnivorous plant surrounded by angry turtles that throw their shells at you at the speed of light. I mean, it's not even a comparison.
Brad Pitt and his Nintendo 64 style: Mario, Luigi, Yoshi, mushrooms and even Wario
No, I have not gone crazy. Brad Pitt has changed his way of dressing for a long time and he had me quite intrigued. There are people who can't sleep because they can't pay the mortgage and I stay up all night because I need to know what's going on in the actor's closet. That's how I am. Total, that the other day, and while I was cleaning my room at my parents' house, I came across THIS.
And that's when I saw it clearly. A Matt Damon roll on The unstoppable Will Hunting (but without blackboard and that). Brad Pitt has traveled to the past and has decided Take inspiration from the Super Mario 64 universe. LITTLE JOKE. The tones, the way of combining the colors and that mechanical roll with monkey included (plumber, hello?) can only mean one thing: Brad has the Nintendo64 at home.
Tell me, if you can, that Brad is not has given his wardrobe a lively twist that matches perfectly with the colors of Luigi and Mario. Tell me. Although of course, be careful because the Mario Bros. universe goes a long way and the actor has decided not to base himself only on his two main characters.
Because If Cristina Pedroche has her best stylist in Josie, Brad Pitt has Yoshi.
But for days when Brad knows he's going to have a lot of headaches, like the mushrooms of the Mario universe (which are much more cute and flirtatious than the fungus of The Last of Uswhere will it end), nothing better than a brown beanie to match the rest of the look and throwing miles.
although as good fashion victimBrad Pitt has known recover the color block 2011 Gucci (wow, I'm also going to know about fashion, what things), inspired by three secondary, but very powerful, characters from Super Mario 64. A big round of applause for wario, the red mushroom and the turtle shell.
By the way Gucci and Nintendo have already collaborated in 2021 when in the video game Animal Crossing the GG (Gucci) Island was created. If you visited, an avatar of Jared Leto would welcome you. freak out
Source: Fotogramas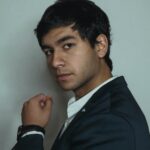 Jason Root is a writer at Gossipify, known for his in-depth coverage of famous people in entertainment, sports, and politics. He has a passion for uncovering the stories behind the headlines and bringing readers an inside look at the lives of the famous. He has been writing for Gossipify for several years and has a degree in Journalism from UC Berkeley.