source: unsplash
Plisé is a fabric with regular folds and you can find it in stores in two variants: with equally wide or radial folds. In recent years, these skirts have become a fixture of year-round trends and have appeared on the catwalks of world brands for several seasons.
From the history of pleated skirts
Pleats first became popular in the 1950s, when they were made famous by the most famous photo of Marilyn Monroe. At one time, a pleated skirt had to be in every woman's wardrobe. Then she was forgotten for many years, but in 2017 she triumphantly shined on the scene again, thanks to the fashion icon Victoria Beckham. This fashion trend keeps coming back.
source: pexels.com
Who will suit it best?
The truth is that pleated skirts add volume to the hips thanks to the pleats, so they will suit tall and slim women the most. But other women won't cry either if they know how to combine them correctly.
Come see how to mature two of the most problematic characters:
Pear type: This type usually does not have a large cleavage, but relatively sensual hips. The ideal solution for this body type will be a dark skirt made of flowing pleats and equally wide pleats. If you have a waist, show it off and get a bold belt for your skirt.
source: pexels
Type of apple: This figure usually has a rounder tummy, hips and thighs. That's why you too choose dark pleated skirts and combine them with looser angular pieces of clothing slightly below the waist. This way you will achieve that you will flatten your figure. An oversized top, the front of which you tuck into the skirt, will work similarly.
What to wear with a pleated skirt without worries?
– A jacket of any length will always be the ideal partner for a pleated skirt.
– In the summer, it goes great with a plain white top, which you can complete with a wide belt.
– Wear a sweatshirt and sneakers with an elegant pleated skirt.
– Create a business look with high-heeled pumps and a shirt tucked into a pleated skirt.
How to properly care for pleats
Today's skirts are made of materials that do not mind washing and ironing. Nevertheless, it is better to always have it hung on a hanger and when washing, pay attention to too hot water, which should not exceed 30 °C. For washing, it is best to use a washing gel and then, while still wet, hang the skirt on a hanger where you let it dry freely.
source: pexels

Source: Moda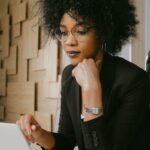 Camila Luna is a writer at Gossipify, where she covers the latest movies and television series. With a passion for all things entertainment, Camila brings her unique perspective to her writing and offers readers an inside look at the industry. Camila is a graduate from the University of California, Los Angeles (UCLA) with a degree in English and is also a avid movie watcher.