______________________________
The Reuters news agency, citing Japanese media, announced the death of Japanese designer, founder and creative director of the Issey Miyake brand, Issey Miyake. He passed away on August 5 at the age of 85 after a long battle with hepatocellular carcinoma, according to the Kyodo news agency.
Issey Miyake was born on April 22, 1938 in Hiroshima, Japan. At the age of seven, he witnessed the nuclear bombing of Hiroshima. After that, for almost his entire life, he hid the place of his birth and the fact that his mother died of radiation sickness, and he himself became lame.
In 1970, the fashion designer founded the Miyake Design Studio in Tokyo, where he began designing women's clothing. His goal was to create "a new universal form of clothing that meets the requirements of our time." Even at the beginning of his career, he formulated the concept of "a piece of fabric" (A Piece of Cloth), when, in an attempt to preserve the integrity of the material, preference is given to the most simple cut, and the way of wearing and the type of drapery remains with the client. Creating practical things "for real life", at the same time he argued that "clothing belongs to the sphere of visual culture, not utilitarian things" and should stimulate the imagination.
In 2007, the fashion designer retired, after which all the collections produced under his name began to be developed by other employees. Nevertheless, the designer continued to personally follow the general direction of the lines produced.
He is known to a wide modern audience as the author of that same black turtleneck by Steve Jobs – this "uniform" came into use by the inventor only in the late 1990s. Then Jobs visited the Sony office in Japan and decided to adopt the style of the company's employees for his team. For the incarnation, he turned just to Miyake, setting him the task of creating a universal thing that is appropriate for any day in any situation. This is how the famous black turtleneck of Steve Jobs appeared, of which Miyake created almost 100 pieces for him.
Source: Hellomagazine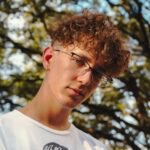 Benjamin Smith is a fashion journalist and author at Gossipify, known for his coverage of the latest fashion trends and industry insights. He writes about clothing, shoes, accessories, and runway shows, providing in-depth analysis and unique perspectives. He's respected for his ability to spot emerging designers and trends, and for providing practical fashion advice to readers.