photo: courtesy of Prada
Emma Watson flaunts an extra short pixie haircut that is often labeled as boyish while posing in the campaign photos. Statement earrings in the shape of a triangle with the Prada logo, a black top and bold black eyeliner painted in asymmetrical lines make Emma unforgettable.
"Prada has always transcended traditional models and archetypes representing beauty and is known for its femininity that challenges convention. It is a pleasure to create a campaign and represent a fragrance with such a deep philosophical concept and sustainability initiatives in a way that is truly real and relevant." she commented on the campaign actress Emma Watson.
photo: courtesy of Prada
White amber, neroli bud and white musk are some of the notes that can be found in Prada Paradoxe perfume. It is described as having a warm floral aroma. The brand also informs that the fragrance has a timeless yet avant-garde quality.
"Empowered by elegance, Emma Watson has a mindful, engaged spirit, committed to positive evolution – the perfect embodiment of Prada's new feminine fragrance. Her extensive body of work, from acting to activism, is beyond inspiring, each activity a sign of her authenticity and ability to inspire and speak to a younger generation that also demands authenticity." he says Yann Andrea, CEO of Prada Beauty International.

Source: Moda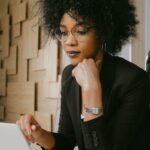 Camila Luna is a writer at Gossipify, where she covers the latest movies and television series. With a passion for all things entertainment, Camila brings her unique perspective to her writing and offers readers an inside look at the industry. Camila is a graduate from the University of California, Los Angeles (UCLA) with a degree in English and is also a avid movie watcher.