When, where and how
There are only a few days left until the start of the first international ABOUT YOU Fashion Week (AYFW), which will take place from September 20 to 24, 2022. The fashion community can look forward to a five-day experience – a unique production of the About You fashion show and 16 shows of other brands in of the Zona Farini area in Milan under the motto "Welcome to the unexpected". Numerous international celebrities and content creators are expected on the red carpet and in the front rows. This year's first international Fashion Week About You will welcome more than 8,000 guests, international celebrities and content creators to Milan, you can look forward to an extravagant combination of fashion, music, dance and entertainment. The goal of the event is to surprise all AYFW fans, experience fashion in a new way and deliver inspiring experiences.

Source: Courtesy of About You
Epic location
To this end, in collaboration with the world's leading creative agency Villa Eugénie, something unprecedented was created: the AYFW Village conceptual space characterized by a unique environment that, thanks to its original architectural design, resembles a real village. The venue for this event is Milan's vast 15,000 m2 Zona Farini location, where no fashion show has ever been held before. This usually empty area has been transformed beyond recognition thanks to the space's ingeniously designed container architecture. The center of the AYFW Village is occupied by a breathtaking, 20-meter-high scaffolding tower, around which container architecture is built in a circle. Guests, VIPs and content creators invited from around the world will be offered exceptional brand experiences, original product presentations with individualized creations, snack bars, lounges and DJ music productions. The specially built TikTok Corner, which will demonstrate its art to visitors, will once again make a significant contribution to the unsurpassed atmosphere of this event. Each element is designed to draw visitors into its world.
Virtually on site
To make this unique opportunity available to as many visitors as possible, a Day Pass to the AYFW Village can now be obtained on the website www.aboutyou-fashionweek.com: the first 150 registrations will receive a QR code and a Day Pass. In the digital area, which is always an essential part of ABOUT YOU events, additional social media content is created for all channels so that those who cannot attend in person can follow everything digitally. In addition, the fashion online store relies on real and well-known international content creators such as: Stefanie Giesinger, Polly & Pamy, Marc Forné, Millane Friesen, Laura Giurcanu, Sarina Nowak, Anh Poenix or Clara. These digital creators take their followers virtually with them and show them AYFW from their point of view and perspective.

Source: Courtesy of About You
How to shop
This year, all fashion lovers can once again look forward to an exclusive live shopping show. At these daily shows hosted by brands and idols, ABOUT YOU customers can purchase models from the catwalk directly in the online store. You can look forward to live shopping shows from About You, adidas by Stella McCartney, HUGO, LASCANA, Puma and many more.

Source: Moda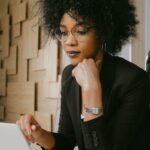 Camila Luna is a writer at Gossipify, where she covers the latest movies and television series. With a passion for all things entertainment, Camila brings her unique perspective to her writing and offers readers an inside look at the industry. Camila is a graduate from the University of California, Los Angeles (UCLA) with a degree in English and is also a avid movie watcher.