Roberto Cavalli Spring 2023 / Imaxtree photo
The most remarkable trends for hair, make-up and nails brought the current fashion weeks and with them a lot of inspiration for what awaits us in the spring.
Metallic makeup
The main make-up artist of the show, Chloé, presented the make-up of the upper lids with silver flashes on the models. The Chloé fashion house was one of the many to choose metallic eyeshadows for Spring 2023. Some leaned towards shades of green, others gold, but metallic flashes were a certainty.
Chloé spring 2023 / photo: Imaxtree
Piercing in several ways
The fashion catwalks in September definitely surprised with the number of different piercings and facial modifications of models and models. Designer Rebecca Minkoff went for the usual piercings option, while special effects makeup artist Alexis Stone left no part of her face untouched for the models at the Balenciaga show. Spikes protruding from the face, studs lining the eyebrows and bulging balls on the models' foreheads attracted attention.
Posterl Girl spring 2023 / photo: Imaxtree
Volume and cut ala 70s
That's right, 70s hairstyles are back and they're getting their space in the spring. The maximum hair volume with the ends turned out, the variant of the blown mikado with bangs, but also the elegance ala Cher, are what will determine the spring hair trends.
Paul Costello Spring 2023 / photo: Imaxtree
Lightened eyebrows
A bold and at the same time beautiful look is brought by the new hit of fashion trends – discolored eyebrows. Bleached hair also accompanied the shows for spring 2023, but next to that, the trend of lightened eyebrows was less prominent. Eyebrows a shade or two lighter than the models' natural hair color accentuated the facial contours and fresh skin of its wearer.
Well 21. spring 2023 / photo: Imaxtree
3D manicure
This trend will especially interest the biggest fans of the art called manicure. The shows featured many bold trends including gel bubbles and dangling nail chains. All this is proof that 3D nail decorations are currently in vogue. Try the milder ones or jump right into the more extravagant ones.
Priscavera spring 2023 / photo: Imaxtree

Source: Moda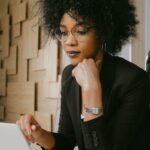 Camila Luna is a writer at Gossipify, where she covers the latest movies and television series. With a passion for all things entertainment, Camila brings her unique perspective to her writing and offers readers an inside look at the industry. Camila is a graduate from the University of California, Los Angeles (UCLA) with a degree in English and is also a avid movie watcher.