______________________________
Sports giant Adidas has made the main star of Tim Burton's new series "Wednesday" Jenna Ortega a global ambassador. Representatives of the brand noted that they are united with the young artist by a common desire to develop the culture of the younger generation. Jenna became the face of a completely new division of the corporation, which was called Adidas Sportswear.
According to Hypebeast, the details of the collaboration will be revealed by the brand's top managers later this year. Adidas also recalled that Jenna is an "ardent football fan" who also enjoys fitness and yoga. Representatives of the company noted, first of all, the importance of the fact that Jenna "does what she believes in" and gives herself to her favorite business without a trace.
Ortega, in turn, said that her love for Adidas stretches from the distant past:
The company has always been present in sports, music and culture and continues to be an innovator in many areas. Adidas sneakers and T-shirts were always on trend as a kid, and to this day most of my wardrobe consists of the iconic 3-Stripes. I am honored to be part of this legendary family of changemakers and the face of their new brand. Can't wait to show you guys this, Jenna commented on social media.
The Addams Family spin-off Wednesday, starring Ortega, was released on the Netflix streaming platform on November 23 and instantly broke the record for viewing English-language shows. In the first week after the premiere, the series was watched more than 341.2 million times. And recently, the showrunners of the project talked about plans for the second season.
Source: Hellomagazine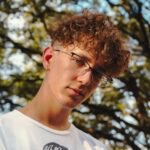 Benjamin Smith is a fashion journalist and author at Gossipify, known for his coverage of the latest fashion trends and industry insights. He writes about clothing, shoes, accessories, and runway shows, providing in-depth analysis and unique perspectives. He's respected for his ability to spot emerging designers and trends, and for providing practical fashion advice to readers.