Senegalese Billy Faye left his native country to seek new opportunities in Brazil, but didn't expect to be on the fashion runways. And it was right there that he made his debut this Thursday (25th), at the 55th edition of SPFW.
The 25-year-old's new face was revealed a few months ago, after he was seen selling sunglasses while walking on the sandy beaches of Guarujá, the coastal city of São Paulo, where he lives.
It has since become a bet of Mix Models and already includes fashion campaigns, editorials for Elle magazine and the first fashion show, held for the Bahian brand Meninos Rei, which brought celebrities such as Marvvila, Samuel Assis, Manoel Soares, Astrid Fontenelle, among others.
"I arrived in Brazil just over two years ago. Since I arrived, I have been selling eyeglasses. In Senegal, I worked in a factory where customers took the fabrics and we sewed the clothes. I did this job for over four years" he recalled. .
"I had never thought of working as a model. Some people stopped me on the street, but I never felt safe. Now everything has changed," revealed the young man who is emerging as a bet in fashion.
Source: Terra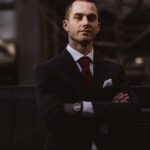 Ben Stock is a lifestyle journalist and author at Gossipify. He writes about topics such as health, wellness, travel, food and home decor. He provides practical advice and inspiration to improve well-being, keeps readers up to date with latest lifestyle news and trends, known for his engaging writing style, in-depth analysis and unique perspectives.