The astrological aspects of the week suggest a tendency towards moments of tension, with the possibility of crisis, but also greater creativity
The forecast for May 28 to June 3 comes with a caveat: You'll need to strike a balance.
That's because we're likely going to have crises out there, both personally and collectively.
Despite the possibility of rough seas this week, some calmer transits suggest a trend towards more affection and tenderness.
If you know how to navigate these waves, you can also take advantage of new ideas and face possible unexpected novelties.
Check out the week's astrological recap below:
Venus trine Neptune from Tuesday (30): more sweetness and more affection in our lives;
Sun square Saturn until Wednesday (31st): increased pressure for day-to-day responsibilities;
Mars square Jupiter also until Wednesday (31): last week's excesses still resonate this week;
Mercury/Uranus from Friday (02): potential for new ideas and unexpected news;
Venus opposition Pluto from Friday (02): possibility of termination of the relationship, increase in crimes and material losses.
Spoilers: you will need to take it easy this week!
To understand how these transits will affect your life, with greater or lesser intensity, check yours personalized horoscope!
He speaks to his astral map and thus brings even more assertive tendencies.
More affection with Venus trine Neptune
We already started the week with excellent winds: Venus starts a trine with Neptune from Tuesday (30).
Considered a good aspect, this trine suggests a tendency towards more affection in relationships and in our daily lives.
We will have in the air that energy of forgiveness and harmony in relationships, which favors understanding and understanding in any type of relationship.
Therefore, those who are single can take advantage of this good energy in their relationships, with a softer and more romantic atmosphere.
Already who is in a love relationship, it will be a great time! So, take the opportunity to get together and have fun with your partner.
Responsibilities that weigh with two squares
We also have two squares (which are tense aspects) reverberating into the forecast for May 28 to June 3.
Both suggest a greater weight in our responsibilities: Sun square Saturn and Mars square Jupiter, both until Wednesday (31).
This is a time when we can feeling overwhelmed by small tasks and excessive haste day to day. Furthermore, these are aspects that can give a feeling of low vitality.
You know when you finish the day feeling extremely tired and often you don't even know why given all you've done? It's right there.
Therefore, the advice is to take more breaks during the day and breathe – Here are some exercises to help you reduce stress.
By pausing and leaving it on autopilot, you can reevaluate your priorities and not waste energy.
Also, how The sun is in Geminiit's also worth using Gemini's rationalization and communication to balance the weight on emotional matters.
It may be essential to do activities such as walking and relaxing if you are tense, overexerting or worried.
Need for balance with Venus/Pluto crises
From Friday (02), Venus, still transiting Cancerbegins a difficult opposition with Pluto in Aquarius.
This tense look usually indicates crisis in love relationships and with close people.
We may have to think about what is not good and finalize what needs to be closed.
Furthermore, it is quite possible that we have to deal with critical situations of all kinds with people close to us or through the news.
For example: a relative who urgently needs to go to the hospital or a friend's puppy who was already very old and dies.
A the energy, in general, is more focused on endings and endings.
Thus, you may see reports of breakups between famous couples or duos and artistic partnerships ending.
Also, we may see more negative news with "normal" couples involving, for example, crimes of passion and sex.
We may also suffer material loss or damagesomething very typical of Venus with Pluto.
For example, it is possible to witness heavy rains that cause landslides and the collapse of houses, since the house is tied to the sign of cancerwhere is Venus.
Also, we have a full moon that starts at sunrise on Sunday (04).
Therefore, we can have such pleasant news at the end of the week, with more headlines of losses and problems in collective or personal life.
Check out the full 2023 lunar calendar here prepare.
Seek the balance!
With all of these critical tendencies, you need to look for ways to keep your balance and not get caught up in chaos.
Therefore, try to be a calming agent and moderator and don't bring more despair and anguish into situations.
It is already a consensus that meditation is an excellent practice to help you with this – see the tips here.
Creative ideas with Mercury near Uranus
Finally, we have good news in the forecast for May 28 to June 3: approaching Uranus from Friday (2), Mercury begins to shake up ideas and bring new visions.
We can consider this to be a week where we are invited to review our actions and what actually makes sense.
This astrological aspect is great for anyone who wants to modernize, change their way of doing things and try something new.
Since Mercury and Uranus are in Taurus, this peak of creativity can be related to the material area and practical matters.
However, the not-so-interesting side of Mercury/Uranus is unpredictability, which means we may get unexpected news.
So the advice is to have a plan B in case things don't go as planned.
So, did you like the forecast from May 28th to June 3rd?
How about seeking balance and serenity to face the challenges of the week? We go together!
The mail Crisis in the air: forecasts from 28 May to 3 June 2023 appeared first on Personalize.
Vanessa Tulesky ([email protected])
– Vanessa Tuleski offers astrological-therapeutic consultations and was a pioneer of Brazilian astrology when she talked about the general sky, instead of the traditional sign-by-sign horoscope. She is the creator of the course "Food and your astral map" at Personare. She participates in the weekly astrological prediction programs on the Personare YouTube channel.
Source: Terra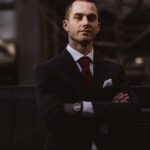 Ben Stock is a lifestyle journalist and author at Gossipify. He writes about topics such as health, wellness, travel, food and home decor. He provides practical advice and inspiration to improve well-being, keeps readers up to date with latest lifestyle news and trends, known for his engaging writing style, in-depth analysis and unique perspectives.