Henri Zylberstajn created the Instituto Serendipidade, a non-profit organization dedicated to the inclusion of people with intellectual disabilities. The name refers to an unplanned lucky discovery.
When businessman Henri Zylberstajn and his wife, psychologist Marina, discovered that their youngest child had been born with Down syndrome, they lost ground. At the time, February 2018, the couple didn't have much knowledge on the subject and their biggest fear was not knowing what to expect in the future for their son. "I have come to question God," Henri said.
After many days of anguish and uncertainty, she began researching trisomy 21 (an extra copy of chromosome 21 that causes the syndrome) to understand what life might be like for Pedro, now 4 and better known as Pepo.
As soon as he better understood the syndrome and the limits it imposes, in a sabbatical year that lasted about six months, when he left the company and retired with his family, the entrepreneur decided to share his experiences.
The first step was to create an account on the social network Instagram to show the daily life of the family and of the person who has become its protagonist: Pepo. The boy's success in physical therapy sessions, home routines and playing with siblings Nina, 10, and Lipe, 7, was instantaneous. Currently, the @pepozylber profile has 178,000 followers and continues to grow.
Then, Henri created the Instituto Serendipidade, a non-profit organization dedicated to the inclusion of people with intellectual disabilities. The name refers to a lucky and unplanned find.
"It is the act of making happy discoveries at random, as happened when Pedro was born. We discovered that we could do more than before, by reconciling professional work with the activities of the third sector, where I became a volunteer," he said.
The institute has completely free projects, such as Laços, which connects mothers and fathers who have just been diagnosed with a child with Down syndrome or with 13 other syndromes or rare diseases with families who have already gone through the same processes and have to share . In three years, the program has assisted more than 250 families in Brazil and abroad, in collaboration with the Albert Einstein Israelite Hospital.
The program has now inaugurated a phase in which the fathers and mothers welcomed by the project have received training and have become welcoming towards other families. "It's a way to repay all the help we've received," said Walquírio Palmério Sobrinho, father of 2-year-old and 7-month-old Bem.
The boy was diagnosed with Down syndrome during pregnancy. He says the timing of the news was quite difficult. "The time of discovery is dark, you need light to see the bright side. Henri was welcoming, he clarified my doubts, he gave me a north. It really gives peace to have another person, in the same situation, talk to you ", he said .
continued exercises
Serendipidade has also created the Sports Initiation Program for boys and girls with intellectual disabilities who find themselves in a situation of social vulnerability.
About 30 children, assisted at the Centro Israelita de Apoio Multidisciplinary (CIAM), begin lessons when they are discharged from physiotherapy. Thus they do not lose the continuity of the exercises necessary to strengthen the muscles and combat ligament laxity, a characteristic normally present in those born with trisomy 21. "It is a way of contributing to these children having a healthier childhood," said Henri.
Another project is Healthy Aging, which monitors elderly people with intellectual disabilities assisted at Instituto Apoie. An Einstein doctor and Serendipidade volunteer sees more than 50 people a week, offering advice on nutrition and ways to preserve cognitive health, which is compromised even more with age.
Seeking to expand the sharing of his own learning, Henri has also written a children's book that addresses the importance of living with differences from childhood.
Launched by Leiturinha, a children's book club, "Joca e Dado: A Different Friendship" was fully illustrated by artists with intellectual disabilities from the creative studio La Casa de Carlota and tells the story of two boys, one of them with Down, than become inseparable at school.
The book is in its third edition, with a total of 100,000 copies distributed to families who join the Leiturinha club and sold to the general public. About 6,500 schools in Rio and São Paulo received free copies to work in the classroom.
In another action, the Institute offers workshops and interviews with companies to train the corporate world to effectively include people with disabilities, not limiting themselves to compliance with quotas. "Society wrongly associates disability with unproductiveness and merely respects the legal quota of PwDs (people with disabilities). There are 20 million people with disabilities in the country and only 475,000 have a formal contract. These people have access to normal jobs, not just PwD jobs," the leader said.
The Institute finances its activities with resources derived from its own shares and from donations from individuals and companies.
Brands such as Vivara and Westwing have already participated in collaboration actions with Serendipidade. There is also a group of ambassadors which today includes the actress Tathi Piancastelli, the writer Vinícius Streda, the musician and speaker Marcos Petry and the chef Guilherme Campos.
"These are people who give credibility and image to the institution and help us publicize the actions, using their social networks," he explained.
Henri says he didn't have to put aside his professional activities to deal with Pepo and social work. Entrepreneur, he founded the auction platform Sold in 2008, of which he remained CEO until 2021.
He also created the Impact School, an initiative that encourages ESG (environmental, social and corporate governance) culture and social-environmental protagonism among young Brazilians. He is currently an investor and consultant for companies in the technology sector. "Today my expectation is that Pedro's future is the same as that of Nina and Lipe, that he can do whatever he wants. I dream of a club that attributes the same value to all people," he said.
+The best content in your email for free. Choose your favorite Terra newsletter. Click here!
Source: Terra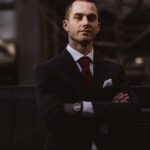 Ben Stock is a lifestyle journalist and author at Gossipify. He writes about topics such as health, wellness, travel, food and home decor. He provides practical advice and inspiration to improve well-being, keeps readers up to date with latest lifestyle news and trends, known for his engaging writing style, in-depth analysis and unique perspectives.