With big differences already with the books and an ending that promises a season 3, the truth is that the Grishaverse could expand thanks to the crows, the ruffians and the scene stealers of the series: "We are ready for that to have its own story."
Spoilers for 'Shadow and Bone' season 2 below
'Shadow and Bone' just returned to Netflix for its long-awaited second season, but showrunners Eric Heisserer and Daegan Fryklind are already looking to expand the Grishaverse. The finale of the second season of the fantasy drama basically ended where Leigh Bardugo's original trilogy of books does, with Alina destroying the Shadow and the death of the Dark One.
However, in a departure from the books, Alina and Mal are sent their separate ways, with Alina appearing to have picked up some of the Dark One's shadow-summoning abilities and, perhaps, his evil.
If Netflix renews the series for a third season, Heisserer and Fryklind plan to combine some of Bardugo's 'King of Scars' duology with some new stories not from the source material, which they can now do given the series' alternate ending. So they told Entertainment Weekly:
Fortunately, we're creating new material for actors we know, love, and trust to carry the weight for us on this. And we're weaving his story with the 'King of Scars' duology, which we're already in love with, and what we think will come to life on screen from both books. So it's a matter of putting them together the way we've put them together with the characters in these first two seasons.
But beyond the direct continuation, the truth is that the Ravens have been crying out for their own series during the first two seasons. The couple also plans to adapt Bardugo's 'Six of Crows' into a spin-off series, but it all depends on Netflix and how well the second season of 'Shadow and Bone' performs.
One of the reasons, but not all, that I had the privilege of working with Daegan Fryklind as co-showrunner on season two is that he was also busy in the writers' room working on 'Six of Crows.' We're ready to release that as his own story.
'Six of Crows' was partly explored in the 'Shadow and Bone' season two finale, but the showrunners said the spin-off would "be its own fun time for the characters that are a part of it."
The first two seasons of 'Shadow and Bone' are now available on Netflix Spain.
Source: Fotogramas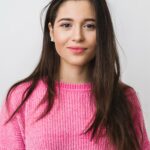 Rose James is a Gossipify movie and series reviewer known for her in-depth analysis and unique perspective on the latest releases. With a background in film studies, she provides engaging and informative reviews, and keeps readers up to date with industry trends and emerging talents.