Makoto Shinkai has become the director synonymous with success in the world of anime and, after 'Your Name' and 'Time With You', the bar is very high for his next film.
Beyond Ghibli and the world of the great anime series or adaptations of famous manga, the truth is that few figures shine as much as Makoto Shinkai. With Isaho Takahata and Satoshi Kon deceased and a Hayao Miyazaki between false withdrawals, only Hiromasa Yonebayashi (The memory of Marnie, Mary and the witch) or Mamoru Hosoda ('The Wolf Children', 'The girl who jumped through time') can be compared to the name of Makoto Shinkai. The Japanese director would enjoy this position only thanks to works like '5 centimeters per second', 'The garden of words' or 'Time with you'. However, it was the massive success and recognition of 'Your Name' that has made Shinkai one of the world's greatest directors, one who transcends the barriers of anime fans.
For this reason, 'Suzume' ('Suzume no tojimari') is a worldwide film buff event. We tell you everything we know about the new Makoto Shinkai movie.
'Suzume': Release date
'Suzume' hit theaters in Japan on November 11, 2022. However, although it is a less common custom in the American blockbuster, in the great Japanese releases it is still common for us to wait in the West for months, or even years. Therefore, this time we are in moderate congratulations. 'Suzume' will hit Spanish theaters on April 14, 2023. It does so a few months after landing in Europe, since in February it was exhibited at the Berlin Film Festival.
April 14 is the same release date as in most European and American countries, so we can say that it will arrive in Spain at the same time as its international release.
'Suzume': Plot
We know that plot synopses and descriptions of the world of anime tend to confuse rather than clarify. After all, we are talking about stories where imagination and visual power usually take precedence with special incidence. However, let us try.
'Suzume' belongs to the fantasy genre and tells us the story of a 17-year-old girl who will help a mysterious young man to close some doors to another world that are appearing all over the Japanese country, causing serious disasters. The young man, apparently in the trailer, spent a lot of time turned into a chair because of a magical cat… Do you see what we were saying about the anime synopses?
In the case of Shinkai and having a young couple as the protagonist, we expect several script twists, a lot of fantastic space-time play and, of course, emotion and romance.
'Suzume': Trailer and images
In addition to the complete trailer of the film that you can see above, full of emotion, fantasy, talking chairs, doors and cats, we leave you with a teaser for 'Suzume'. The same is starring with the sound only of his now iconic song, also titled 'Suzume' and performed by Nanoka Hara.
Source: Fotogramas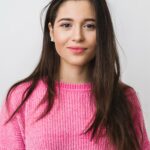 Rose James is a Gossipify movie and series reviewer known for her in-depth analysis and unique perspective on the latest releases. With a background in film studies, she provides engaging and informative reviews, and keeps readers up to date with industry trends and emerging talents.