He is a figure who has proven his time and all that was missing was a biopic about his youth and crazy rise. Now it does, thanks to France 2 and the pen of Danielle and Christopher Thompson. Soberly titled Bardo, the 6×52-minute series traces her life from her beginnings at age 15 in 1949 to the birth of her son in 1960. The beginning of a young girl, brought up strictly, who dreams of becoming a dancer. Guided by his love for director Roger Vadim and driven by the desire for freedom and emancipation, he will allow himself to be carried away by cinema…
The series was selected by the Series Mania festival in the category of international competition, and this French and Italian co-production has every chance. It is impossible not to fall under the spell of Julia de Nunes. The young woman, who is making her debut in the industry, has an electric presence: with her clouded brushwork and her special speech, she captivates the characters as much as the audience. Her randomness is well suited to the aura of Brigitte Bardot of the 50s and 60s: a young woman who does not allow herself to be limited by the shackles of society, fully surrendering to life (and men).
The rest of the cast doesn't disappoint, as does the sunny Victor Belmondo (Vadim) and the promising Noham Eje, all reserved, as Jean-Louis Trinignan. If you're into cinema, you won't be surprised to hear big names in the 7th art mentioned in the series.
Quite a successful realization, the work on the costumes (and Brigitte's hair!) as well as the musical composition imagined by Arthur Simonin take us back in time. If you don't know his story, even if it's exhaustive, Bardot will give you a global picture of the character, his era, and the way he influenced the world.
Source: Allocine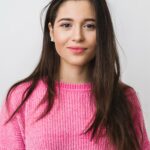 Rose James is a Gossipify movie and series reviewer known for her in-depth analysis and unique perspective on the latest releases. With a background in film studies, she provides engaging and informative reviews, and keeps readers up to date with industry trends and emerging talents.