Pio Marmay's meeting with Brad Pitt will be remembered for a long time! Guest with Francois Civil The Hot Ones show To promote The Three Musketeers: D'Artagnan in theaters on April 5, the French actor crossed paths with the Hollywood star for just a few seconds, but the moment was hilarious to say the least.
"I was with my friend Tufik, who is giving me the Caesar he won with Holy Omer"Says Pio Marmay (this is Tufik Ayadi, film producer, editor's note). "I take it in my hand, I look at Caesar a little, I look up and there I see a boy, Golgotha, who is coming."
"And in the back, who do I see? Brad! The one you saw on TV, you see?"continues the actor. "He sees that I have Caesar in my hand, looks up at me, approaches me, shakes my hand and says "Congratulations!" I say: "Thank you!" He takes my hand and breaks it."
"When he grabbed my hand, I was like, 'Damn, that guy has good skin!'continues Pio Marmay before a cheerful Francois Civil. "Everything is sweet about this guy. And then he'll say 'Congratulations'! I had a Caesar in my hand, I thought I won. It lasted a split second, but it freaked me out. It made my night. ."
Pio Marmais will appear in The Three Musketeers: D'Artagnan on April 5th, where he will appear in the guise of Porthos. In the actors next to him, we find especially François Civil (D'Artagnan), Vincent Cassel (Athos), Romain Duris (Aramis) and Eva Green (Miled).
Ouf Voice – Jean-Pierre Michaël – Meeting Brad Pitt and Keanu Reeves VF Voice:
Source: Allocine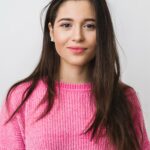 Rose James is a Gossipify movie and series reviewer known for her in-depth analysis and unique perspective on the latest releases. With a background in film studies, she provides engaging and informative reviews, and keeps readers up to date with industry trends and emerging talents.